5 Reasons to Honeymoon in Maine
5 Reasons to honeymoon in maine
Rocky Coast, Romance, and Sea Views
If you're planning a wedding, odds are you're already imagining the dreamy destinations to escape to for your honeymoon. You can consider tropical locales or exotic destinations you've only dreamed about, but for a one-of-a-kind experience you'll never forget— choose Maine. 3,000 miles of rocky shores and sandy beaches. Romantic hidden spots and world-class arts eats + drinks.
Why settle for less, when you can have a little bit of everything in Maine. You'll look back fondly with your favorite person forever. Here's 5 reasons Maine is the best place to honeymoon.
---
1. HIKING
Maine is a stunning place and a hiker's paradise In the fall. You can gaze at the expansive foliage dotting Bradbury Mountain State Park in rich golds, oranges, and reds as you take in the beautiful sights around you with that person you love most. Bradbury Mountain is within an hour's drive from Portland, making it a perfect way to spend the day hiking. If you want to stay a little closer to Portland, look no further than the Fore River Sanctuary Trail in Portland.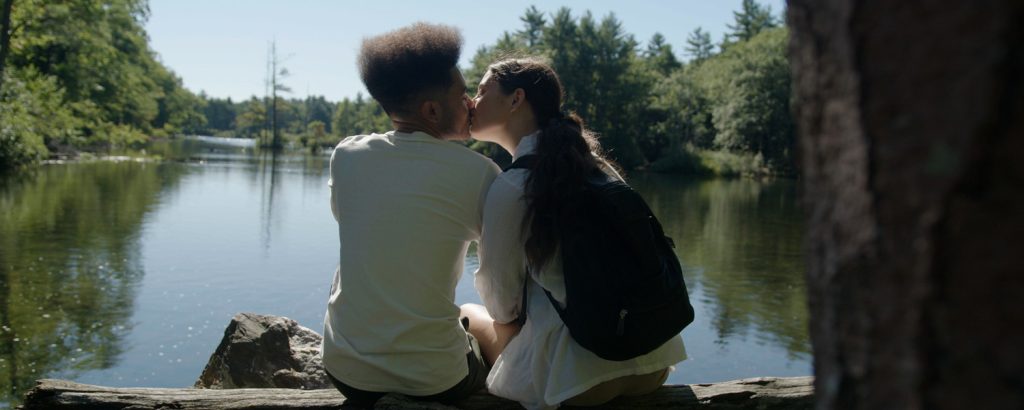 The trail is 3.3 miles and features waterfalls for some gorgeous honeymoon pictures! Whether you and your new betrothed are experienced hikers or new to getting the most out of Mother Nature, Fore River Sanctuary Trail is suitable for everyone.
And if you want to bring your best furriend along on your couple's retreat, you're in luck. Not only is Greater Portland full of outdoor dining, accommodations, and events that are all pro-pooch. You can also find plenty of places to explore the great outdoors in Maine with dog-friendly walking and hiking trails.
You'll see wooden boardwalks, marsh areas, evergreen forests, and roaring waterfalls. You'd never believe it's set right in the middle of bustling Portland, but it's a hidden gem that will make you feel like you've lived in Maine your whole life, even if you're visiting.
---
2. COASTLINE
Southern Maine has some of the best coastlines, making it the perfect honeymoon destination. What could be better than soft, salty breezes caressing your face as you sail on the Casco Bay on a summer evening?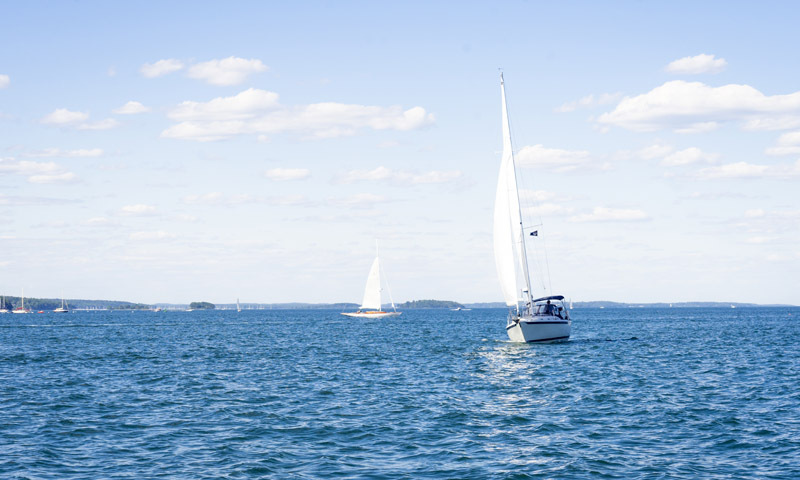 Set sail on a windjammer, the three-masted sailboat Maine is most known for. You'll see the coastline lazily drift by you, filled with nautical charm. Cliffs make up the coastline, adding drama on a temperate summer evening when it feels like your life could be a movie. Add in a few award-winning lobster rolls picked up as takeout from Bite Into Maine, and you've got the makings of an unforgettable evening.
Whether you're enjoying the coast from land or sea, something about it is captivating. Hope aboard Casco Bay Lines year-round ferry and embrace island time on one of Portland's Casco Bay Islands. Drink in the essence of everything you love most while lounging in an Adirondack chair, sipping lemonade at the Chebeague Island Inn.
Stay right on the water with Surf's Inn on Ogunquit Beach. A short walk to the water, his charming inn on the southern Maine coast features your own living and stay space. You'll be able to enjoy the water whenever you would like while feeling like you're at your home away from home.
Hold hands with your new partner for life as you gaze out at the ocean and contemplate the possibilities that await your life together. Waves crash softly in front of you, and you know this is how life should be.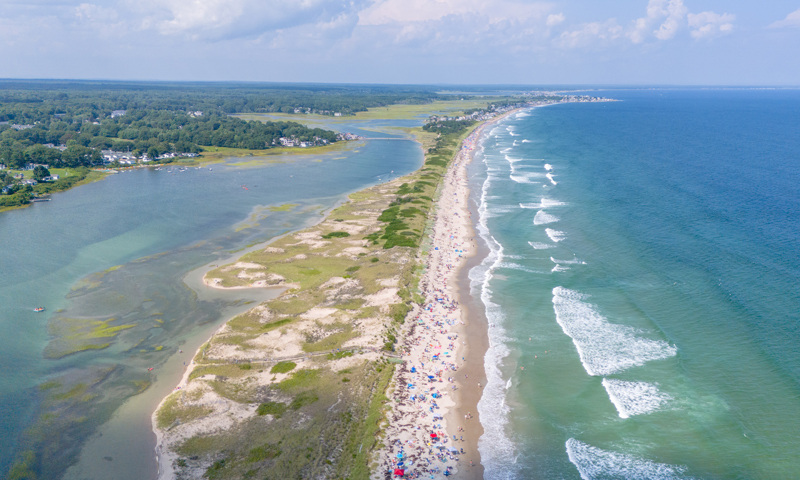 ---
3. SEAFOOD
If you're going to have your honeymoon in Maine, you must take advantage of the seafood. Lobsters, clams, and scallops abound here. It's not a matter of choosing what you'll eat, but how much. Start with lobster stuffed into lobster rolls and drizzled generously with butter, mayo, and all the accouterments.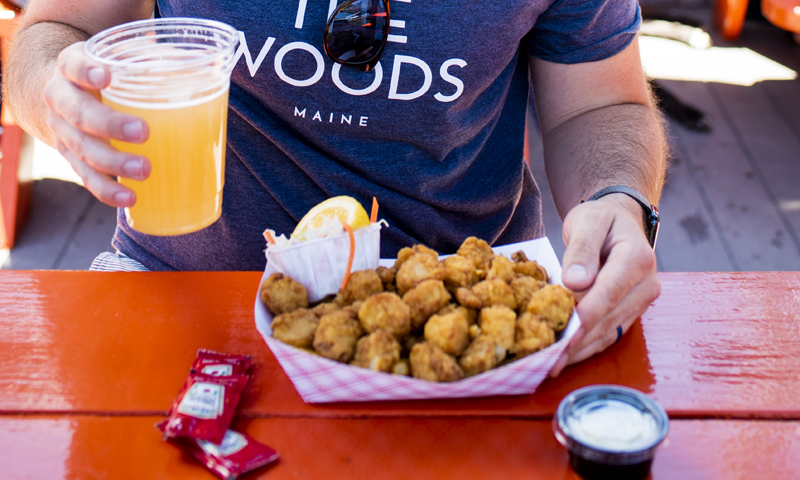 Not sure where to start? We got you covered. Whether you want to check a Maine lobsterbake off your list or just want to get your hands on a local lobster roll, we are ready to take your order. And despite what you've heard, it's not all about lobster. It's oysters, mussels, and every kind of delicious fish found in the Bay and delivered straight to local seafood restaurants.
You'll get the ultimate views of Portland's Old Port and the freshest lobster. Don't forget to order a cup of clam chowder for a well-rounded Maine dinner with all the seafood classics! Hop on a ferry, and you'll find some of the best fried clams on Peaks Island at Island Lobster Company. Perfectly crispy and still tender, these whole belly clams are all you could ever want and so much more.
You'll also enjoy great waterfront views while sitting on their incredible outdoor deck. If you and your partner love seafood, you'll be blown away by the tasty offerings here. Want to take your seafood experience to a whole new level? Order the Lobster Fra Diavolo at Street and Company.
It's hard to find a dish in Portland that fits more seafood. The dish is for two people and features two twin lobsters, clams, mussels, and various other seafood, pasta, and a spicy Diavolo sauce to top it all off. It's prepared impeccably and will make you both realize that there's nothing like seafood in Maine.
---
4. ROMANCE
Honeymooning in Maine will feel like romance is all around you. But to feel connected, Portland is a dream. Something about its cobblestone streets, picturesque working wharf, and local boutiques will make it feel like you and your love are the stars of your very own Hallmark movie. Take the romance up a notch by packing a picnic to partake in at the Eastern Promenade.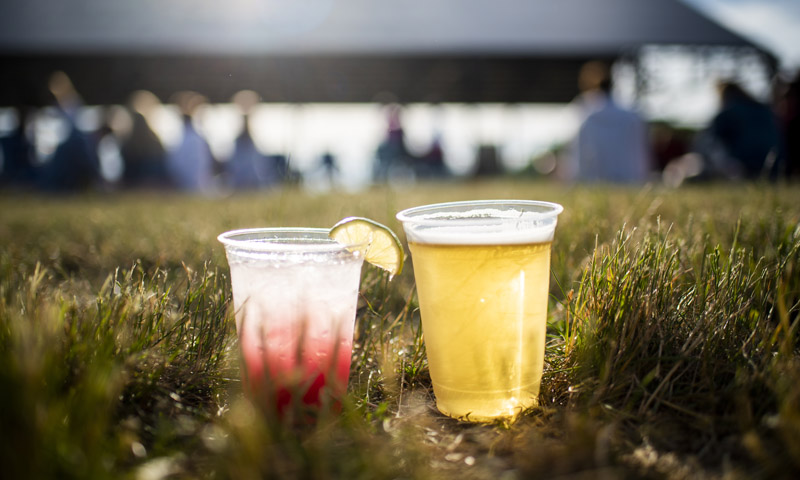 It's only a short walk away from the heart of Portland's Old Port and away from some of its hustle and bustle. There are no rules on your honeymoon, so stop into popular brewery Shipyard Brewing Co. on your walk down for a refreshing draft beer. After your picnic, you'll be close to some of the many attractions on nearby Washington Avenue. You can also take some time to walk hand in hand, exploring the Promenade, taking in the beautiful views, or simply relishing each other's company.
---
5. GETAWAY
Maine is the perfect place when you want to get away for your honeymoon. But one of the things that makes it so unique is that you can also escape during your getaway. Unwind with a stay at Inn By the Sea in Cape Elizabeth. This luxurious resort on the southern Maine coast features spectacular ocean views and will make you and your partner feel like you're living in luxury.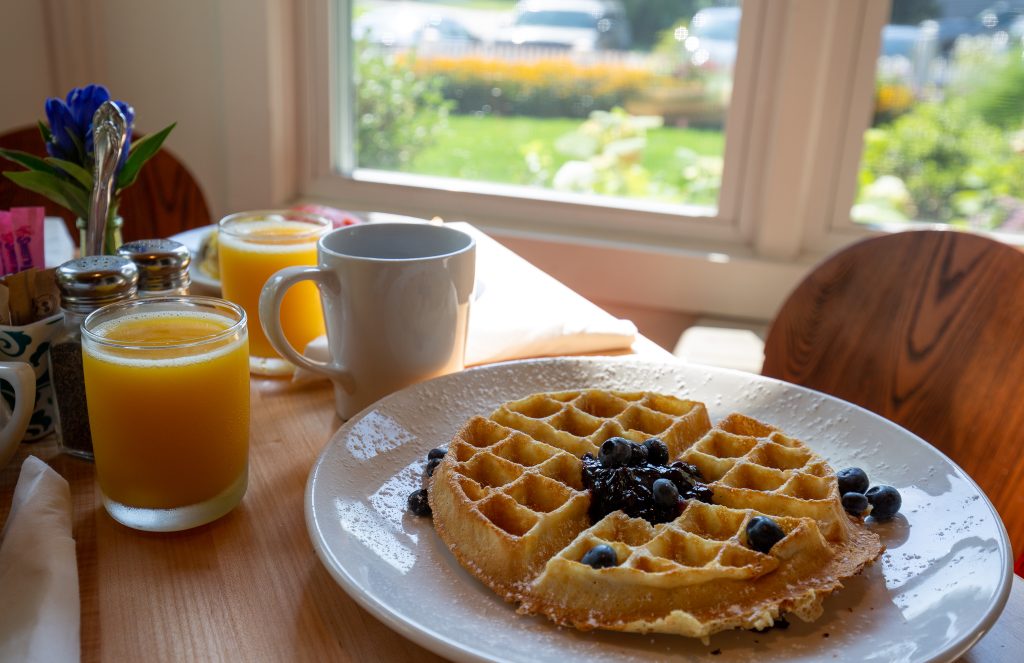 Wake up to plush accommodations and stunning waterfront views, and take advantage of their full-service spa, where their staff will pamper you with massages, facials, and treatments to help you both unwind after the stress of wedding planning.
Make sure to take a trip over to Portland Head Light while in town. This is Maine's oldest lighthouse and one of the most photographed in the US. In fact, it was commissioned by none over then George Washington. It's a perfect photo spot to capture your newlywed pics.
---