Lobster is a Maine Experience
Maine lobster is the sweetest, most flavorful and tender lobster you can eat. hand-caught by a community of lobsterman committed to sustainable fishing for generations. If it's not from Maine – it's not lobster.
Maine's lobstermen are practically national treasures, but have you ever met one? Pete's been in the business since he was five years old. Like many Maine lobstermen, his story might explain how this local staple has captured the hearts of seafood lovers everywhere. It's evident in every lobster he dishes from his pot to yours.
Sweetness Un-trapped
The traditional steamed lobster dinner with butter, corn, and clams is served throughout the region alongside new creative ways to savor the delicacy. Lobster rolls have also evolved from the hugely popular toasted flat bun, chock full of sweet mayonnaise-tossed meat, to other varieties featuring flavors like curry, wasabi, or chipotle. Enjoy a lobster roll in a gorgeous oceanside setting, such as Two Lights Lobster Shack or the Bite Into Maine mobile eatery at Fort Williams Park, both in Cape Elizabeth.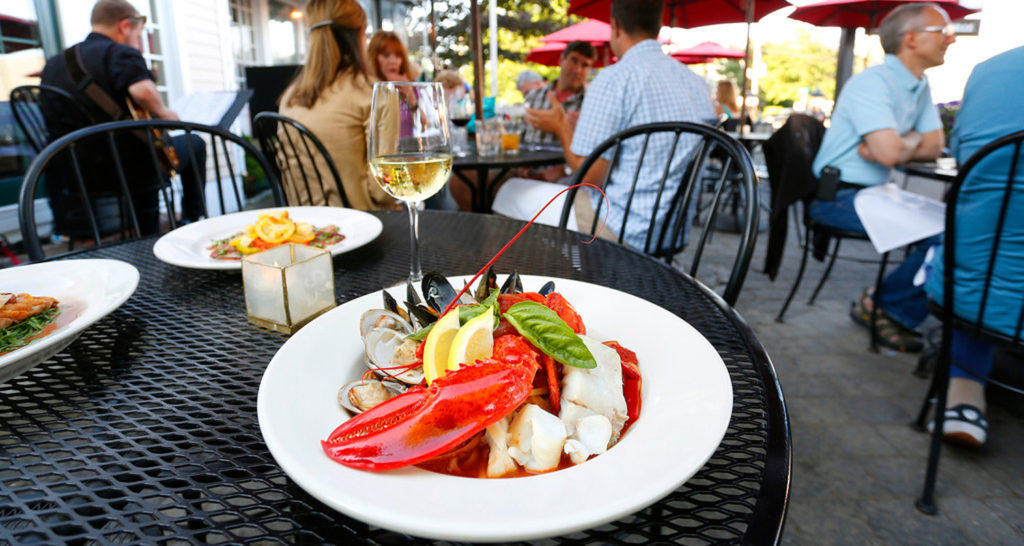 Worried about withdrawal? Several seafood purveyors are happy to send you home with lobsters packed to travel or ship them directly to you. The Maine lobster fishery is a model of resource sustainability, undertaken for generations by the fiercely independent men and women of Maine's coastal towns. Lobstering in Maine is done by a close-knit community of harvesters, and is often a multi-generational family tradition. The stories of their work on the water are as unique as Maine itself, from the origin of lobster boats' names to the way they each fell in love with the lobstering life. Contributing more than $1 billion to the state's economy annually, Maine lobster is not just a culinary icon, but also an economic engine.
Maine lobster is one of the oldest continuously operated industries in North America
The first documented catch dates back to English settlers in the 1600s. But the American lobster did not achieve popularity until the mid-19th century – at one time, possibly due to the kind of ready availability that doesn't appeal to elite consumers, lobster was more commonly eaten by the poor. As tastes evolved, however, Maine Lobster gained popularity among a well-to-do audience. The value of the lobster catch increased, and in the 1840s, Maine established its first commercial lobster fishery. The development of a custom-made boat that keeps lobsters alive during transport revolutionized the freshness of North American lobsters. Commercial lobster fisheries began to flourish – and business is still booming today.