a bit of everything maine
7 Days of Adventure Across the State of Maine
From the Middle of Nature to the Middle of the Action
Join lifelong Mainers, Amy + Dan, as they make their way down the coast for seven days of fun in the sun—exploring a bit of everything Maine has to offer. Forest bathing in the Maine Lakes & Mountains, hunting for giant trolls in the Maine MidCoast, and finishing-up with a food truck fest and wine/beer weekend in Greater Portland, Maine.
Come along for the ride!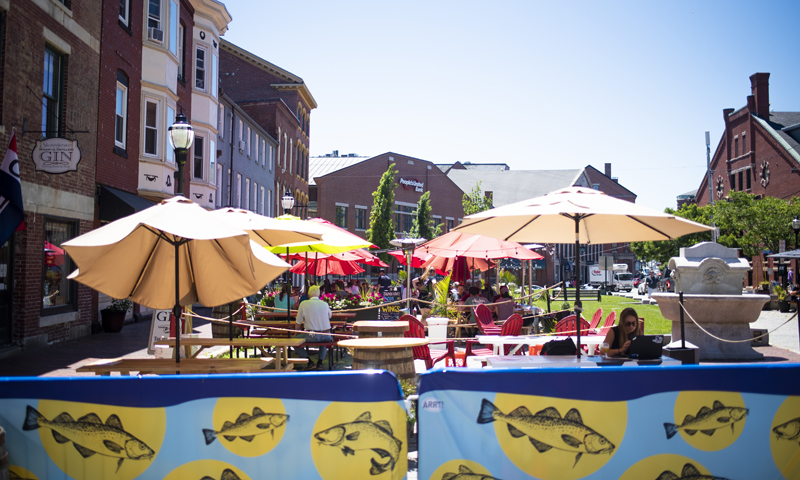 ---
SUNDAY & MONDAY
Maine Lakes and Mountains
Amy + Dan started their adventure by packing-up their car, queueing-up their playlist, and hitting the road. They drove a scenic two hours from their home in Southern Maine to Sebago Lake in the Maine Lakes and Mountains region.
Ever gone glamping? Or stayed in a tiny home? The couple's first stop was checking-in to one of these rustic accommodations. In Maine, you can choose your difficulty when it comes to exploring nature. Stay in a curated cabin—complete with kitchen and outdoor deck—or pitch a tent with cozy bedding and a firepit feet from your "front door."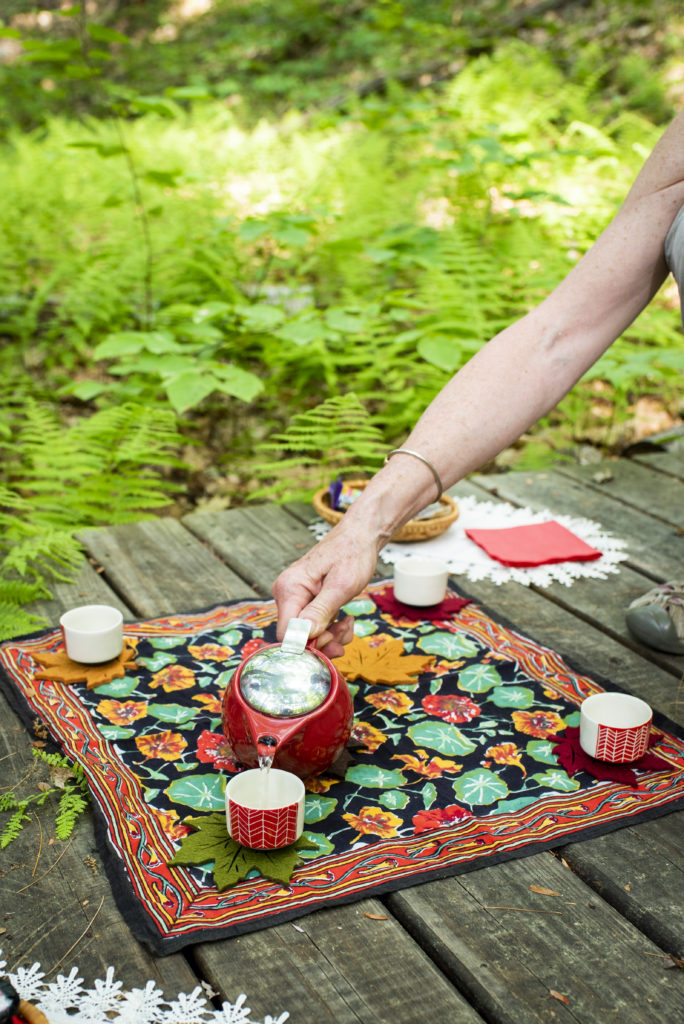 Maine Lakes & Mountains is a great place to get outdoors and explore the trails and parks and nature that Maine has to offer. So, grab some local treats and artisan beer/wine from a nearby market and picnic in a park. Amy + Dan headed over to Pondicherry Park in Bridgton to do just that.
Afterwards, Amy + Dan tried Forest Bathing for the first time. What's that, you ask? It's a guided walk through the forest with a trained host. Spend quality time with Maine's vast plants and wildlife as you take a slow, deliberate walk through the Maine wilderness—while you connect with your environment through your senses. They finished with a white pine and wintergreen tea ceremony on the forest floor.
The next day, the couple checked-out the nearby town of Norway and explored artisan shops and makers. You'll find no shortage of farm-to-table restaurants, local markets, and small mom and pop shops around every corner in Maine. After they took in the sights they got back in the car and took another short ride down the coast.
---
TUESDAY & WEDNESDAY
Maine MidCoast
About an hour and a half south of the Maine Lakes & Mountains is the sunny, seaside town of Boothbay Harbor. That was Amy + Dan's first stop in the Maine MidCoast region. After a quick stopover for lunch on the water with plenty of Maine lobster and fresh seafood—the couple headed over to the Coastal Maine Botanical Gardens.
There's no shortage of things to see at the gardens from butterfly houses and woodland trails to countless floral exhibits, like the garden's Dahlia display. However, their newest experience has locals and visitors alike lining up to visit. Danish artist Thomas Dambo's Giant Trolls at the Guardians of the Seeds exhibit are made of recycled-wood sculptures and hidden throughout their native, natural wooded areas, waiting to be unearthed.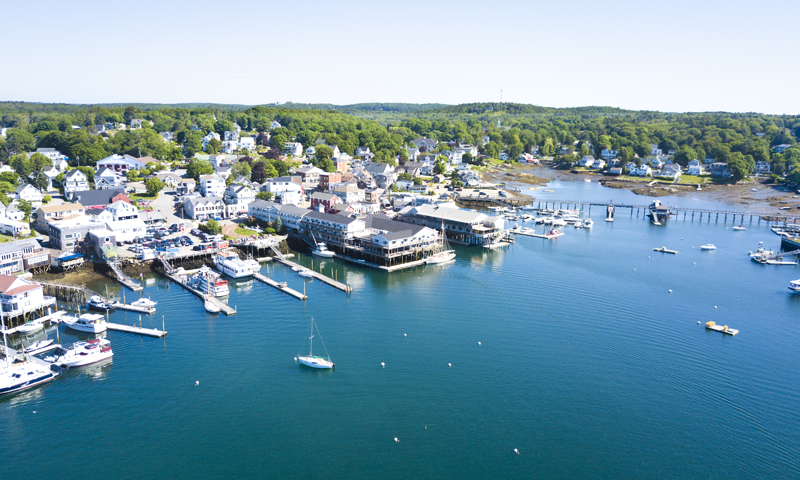 From there Amy + Dan checked-in to a charming Maine bed & breakfast in downtown Boothbay and spent the day enjoying the small shops and local restaurants sprinkled across the seaside town with stunning coastal views. After a quick drive up to the Belfast/Searsport area, the couple stopped off for lunch made from farm-fresh ingredients.
They spent the afternoon at Penobscot Marine Museum for a guided Walking Tour before checking-out the local breweries in Belfast. Sunsets, seafood, and a beer atrium. The next morning, the couple grabbed a locally roasted coffee and hit the road for Greater Portland, Maine.
---
THURSDAY TO SATURDAY
Greater Portland, Maine
Just an hour later, Amy + Dan arrived safely in the Forest city. The couple parked and wandered down cobblestone streets on the way to Portland's Working Waterfront. There they watched fishing boats weave in and out of the docks and ate oceanside at Portland Lobster Co.
They enjoyed their meal with seagulls spinning overhead and salty, sea air wafting around them. Seafood doesn't get fresher than arriving straight from ocean-to-plate, just feet from where it was caught. Whether you're looking for fine-dining or casual fare, you'll find plenty of places to eat outside in Maine all across the region!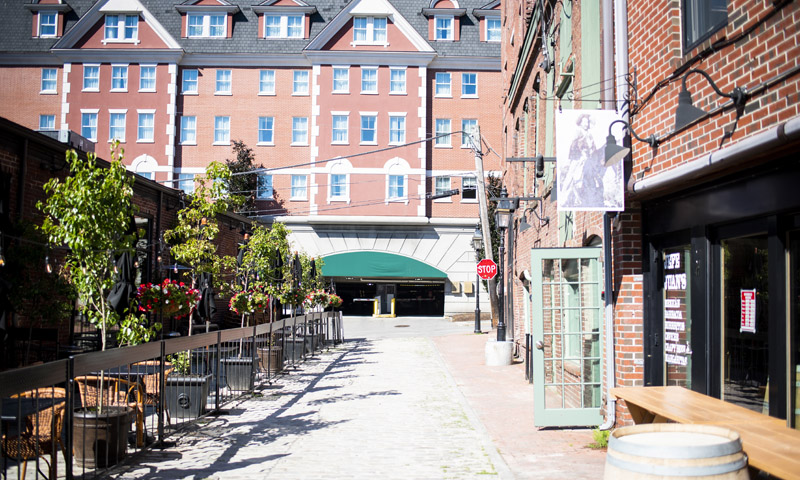 Not only are the regions of Maine easily drivable between them, but it's convenient to travel in Portland's downtown district. Bring a car, use our public transit system, The Greater Portland Metro, or just take a walk. The Portland peninsula is just over 3 and a half miles end-to-end so navigating between destinations is a breeze.
While exploring Portland on foot, you'll uncover unique shops, neighborhood restaurants, and public art hiding around every corner. Chock full of surprises and bursting with games, gear, and gifts—find everything you need and more at Reny's. Perfect for scoping out last-minute items you forgot to pack or just a little souvenir shopping.
Visit one of the many art institutions in the area for an insight into history and culture—like the Portland Museum of Art. Locals like Amy + Dan can never get enough when new and rotating exhibits come out throughout the year. There's always something exciting to see!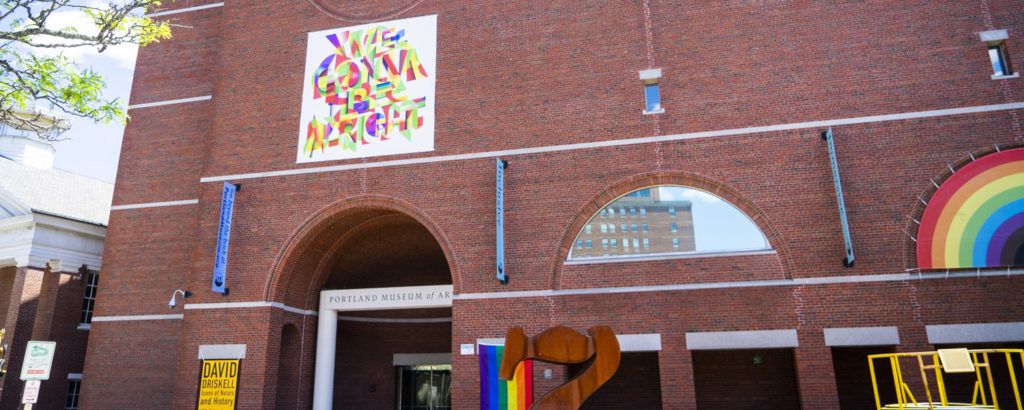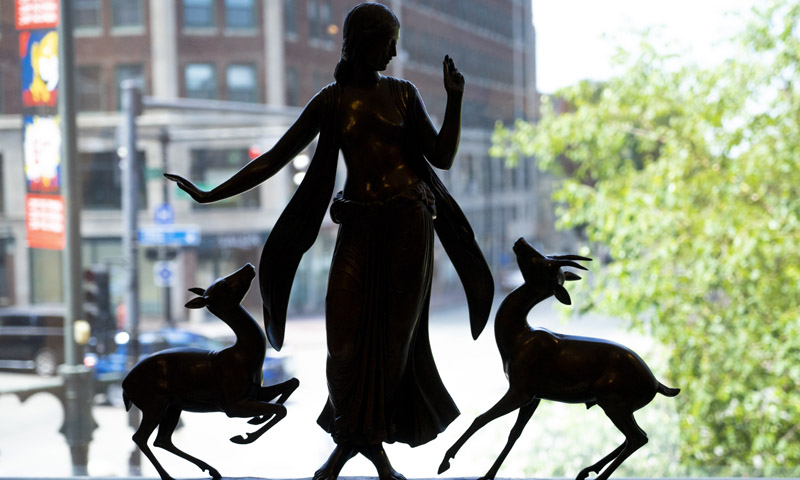 Next, it was time to check -in to their downtown hotel. They didn't have to go far to find the Holiday Inn by the Bay since they are located conveniently between the Old Port and the Arts District. In fact, the Holiday in by the Bay is across the street from the Portland Museum of Art and their outdoor sculpture park. So, all Amy + Dan had to do was stroll down the road to get settled-in—and can we talk about these views?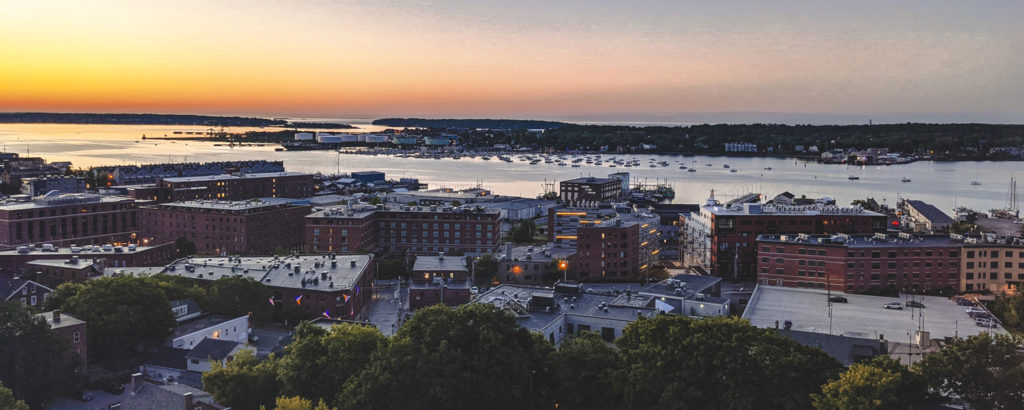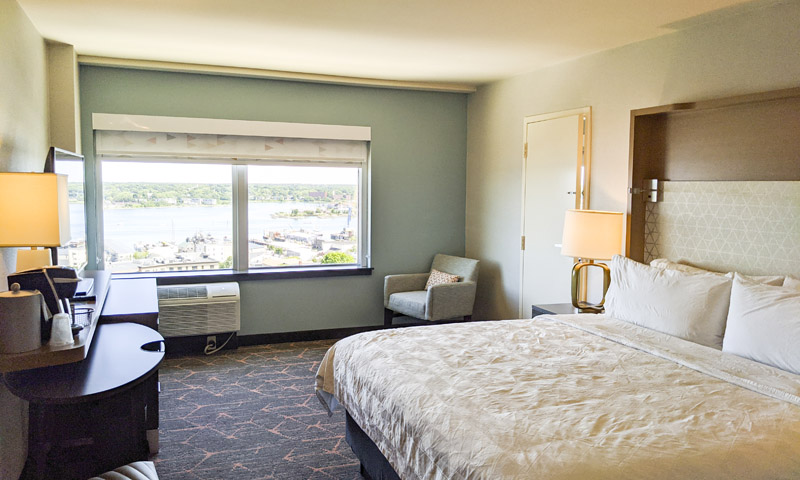 Photo Credits: Capshore Photography
Amy + Dan capped-off their first night in the city at Portland Wine Week. If you missed it this year—don't worry—it's an annual event. Held in June, Portland Wine Week celebrates the rich and diverse wine + food scene in Greater Portland, Maine. Amy + Dan set sail that evening for a sparkling wine sunset cruise aboard a historic windjammer sailboat.
They enjoyed light snacks while sailing through Casco Bay sipping on hand-picked wines by local Sommelier, Erica Archer. Portland Wine Week is hosted by Wine Wise Events and features wine sails, special food + wine pairings, and other ongoing offerings to keep the buzz going all week long.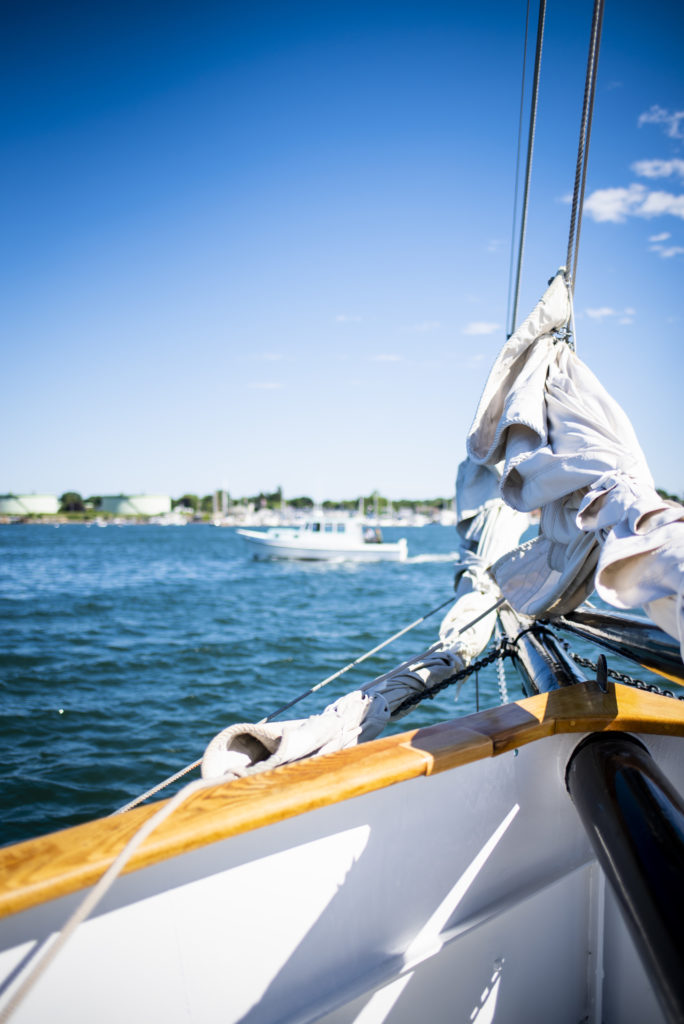 Back on land, Amy + Dan carved their way through the Old Port to find a dinner spot. Historic brick buildings brush against modern marvels and rooftop bars. One of the best things about being in Portland, Maine is the countless culinary options nestled side-by-side. It's a melting pot of international eats and local delicacies all within walking distance.
Cheers! The couple dined at UNION Kitchen at The Press Hotel where they glimpsed the bounty of what our oceans, streams, and local purveyors have to offer. Greater Portland, Maine is in touch with our local farmers and fishermen and will always push to provide the freshest and most sustainable experiences possible. You can taste that kind of care and commitment in every bite.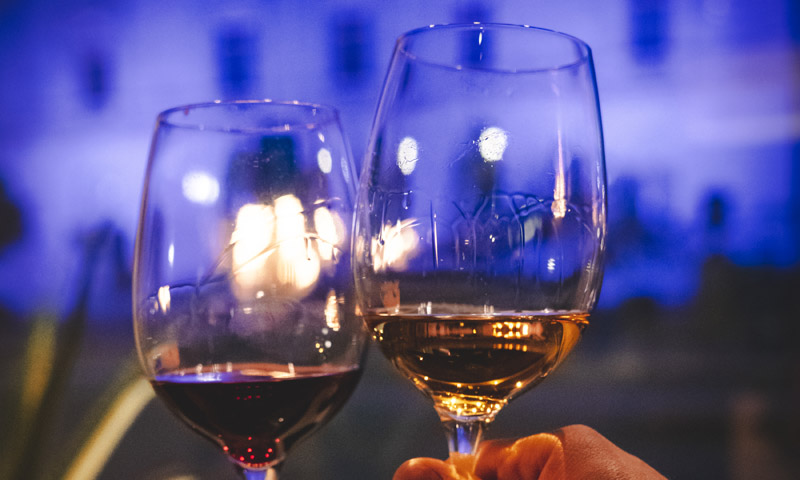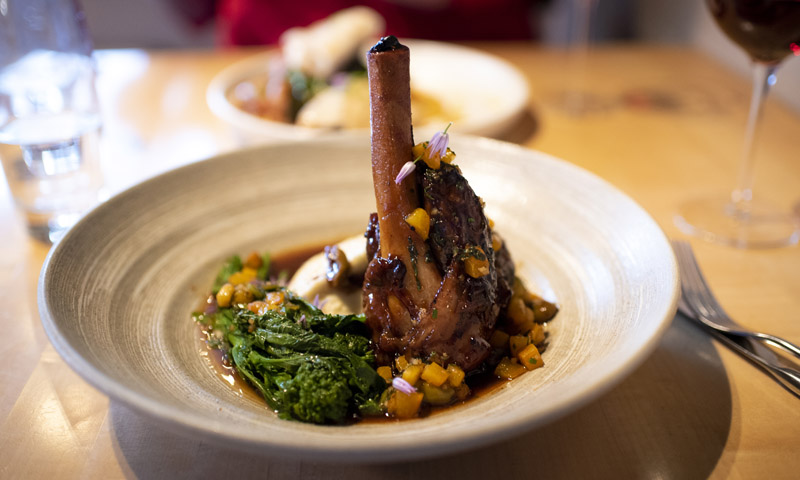 Friday morning, Amy + Dan got their caffeine fix (and their blood flowing) on a Bikes + Brews tour with Maine Brews Cruise and Summer Feet Cycling. They toured the city on wheels while uncovering new locally brewed and roasted coffee creations. Two self-professed coffee lovers—Amy + Dan are always looking for new neighborhood shops to try, so a tasting tour around the city certainly hit the spot.
If you're looking for something stronger than an Americano, get-in on the craft beer boom at one of Maine Brews Cruises' land or sea tours.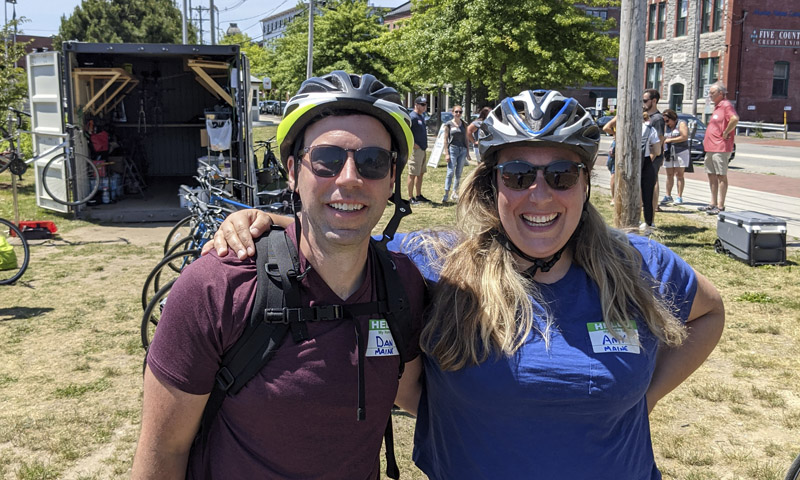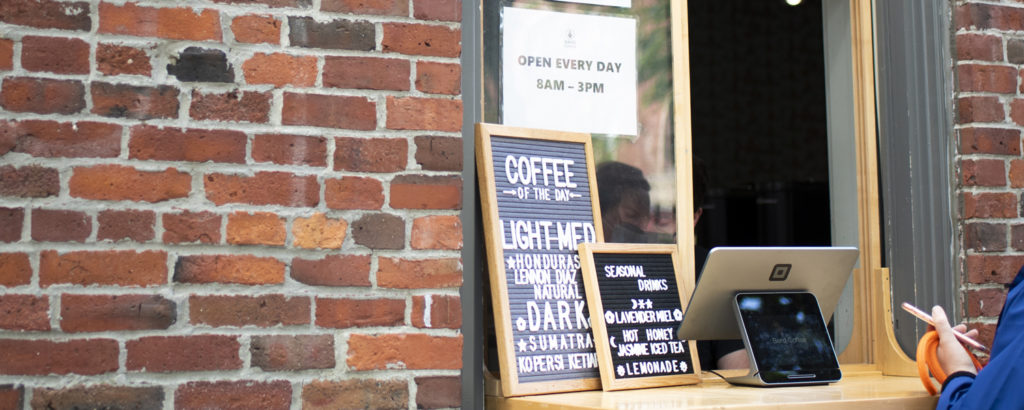 They took their appetites' over to lunch once they finished biking in Portland, Maine. This year, Portland has re-launched its outdoor dining program allowing businesses to expand into public spaces, so visitors can enjoy food & drink while staying safe at unique, outdoor dining environments.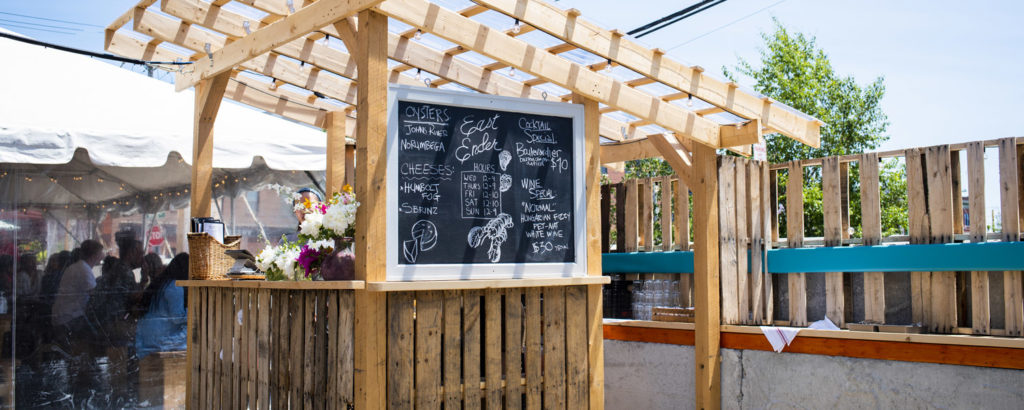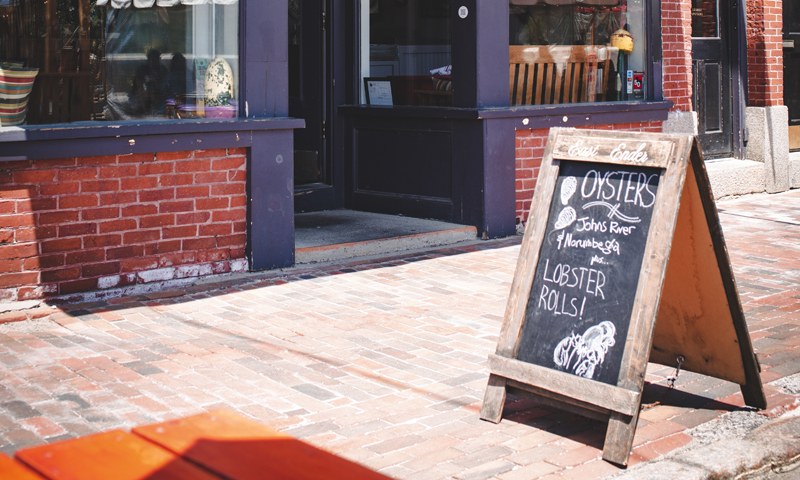 There is no shortage of things to do in Portland, Maine. If you're looking for a one-of-a-kind experience, Hovercraft of Maine is one of only six hovercrafts in the world. The Explorer 24 can travel up to 32 mph and flies over a foot off of any surface—making it possible to get up close and personal with the sights and sounds of Casco Bay.
After a cobblestone stroll through some of Portland's historic neighborhoods—Amy + Dan made their way over to Thompson's Point. a bustling neighborhood just off Portland's peninsula. The property is home to breweries, bakeries, and museums. In addition to their summer concert series, Thompson's Point hosts craft shows and other show-stopping events.
How does playing lawn games while the sun sets on the Fore River sound? Cold beer and a band playing? Well, during the warmer months, Thompson's Point hosts a free event series called Summer Sunsets with food trucks, tented beer garden, and picnic tables for you to spread out and spend time with family and friends in Maine. Amy + Dan live just 20 minutes from Portland—so they invited some of their pals along to enjoy the summer sun with them!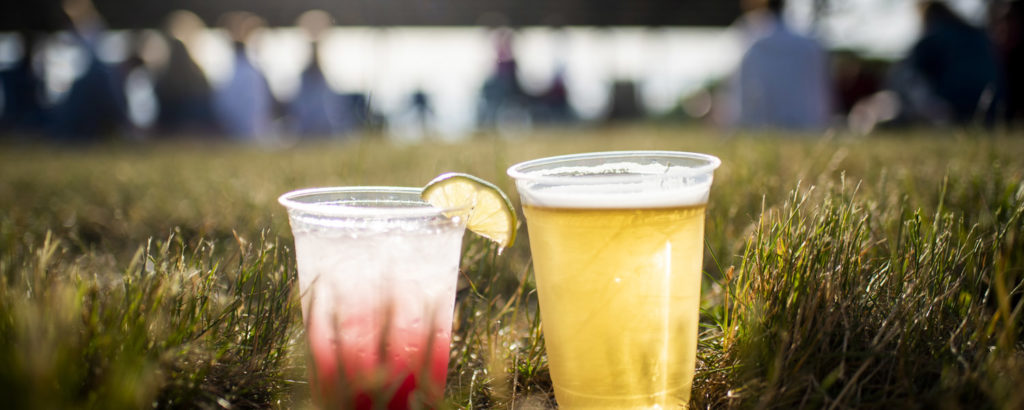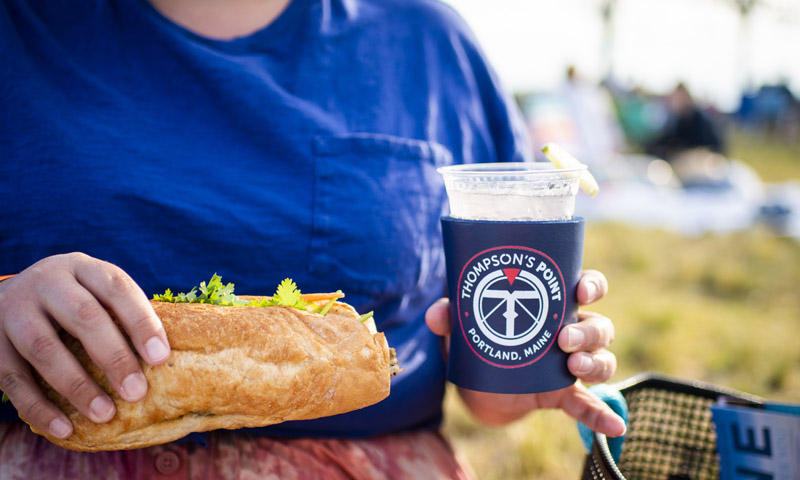 Saturday was the couple's final day exploring a bit of everything in Maine. They travelled the coast, uncovered artists in small towns, and explored the marvels of our city by the sea. Even after seven days, Amy + Dan barely scratched the surface of the landmarks and historic sights in Maine. They went out with a bang by spending the morning on Maine Brews Cruises' Seaportland: Fort Tour and Beer Experience.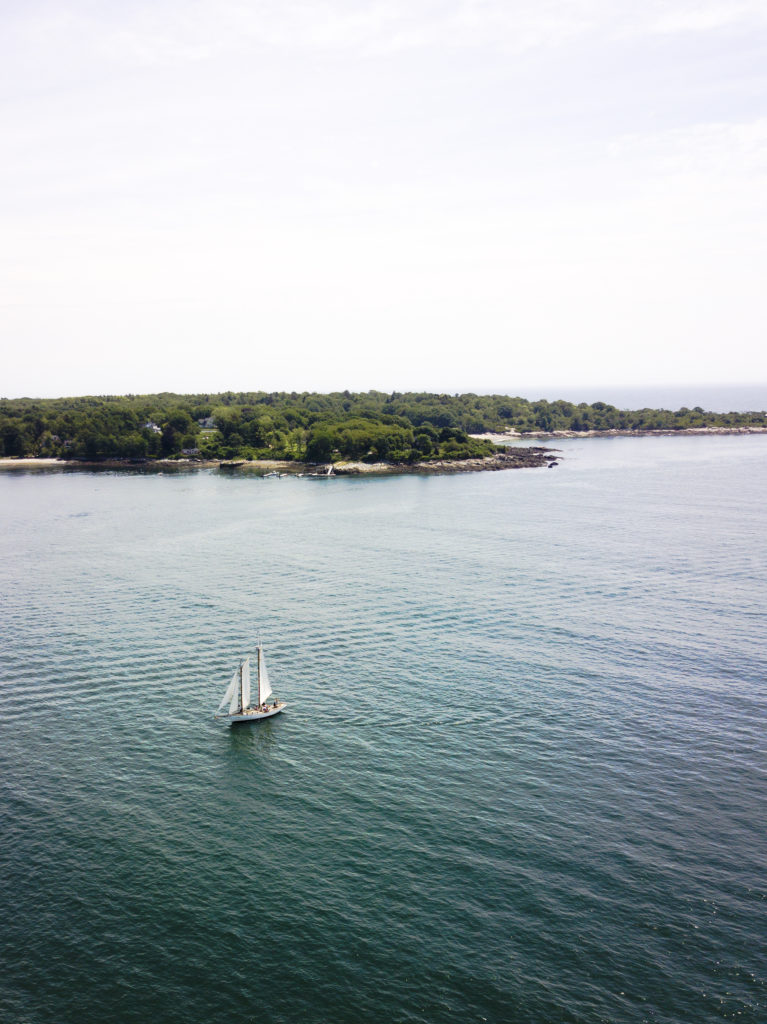 Get a closer look at Portland's historic forts from the inside out! With a beer in one hand and lobster roll in the other Amy + Dan embarked on a one-of-a-kind tour of Casco Bay. On their three hour tour the couple glimpsed forts, island escapes, and lighthouses. One of the highlights of the trips was exploring stone fortresses, like Fort Scammel, with a tour guide educating them on the history and purpose of the fort.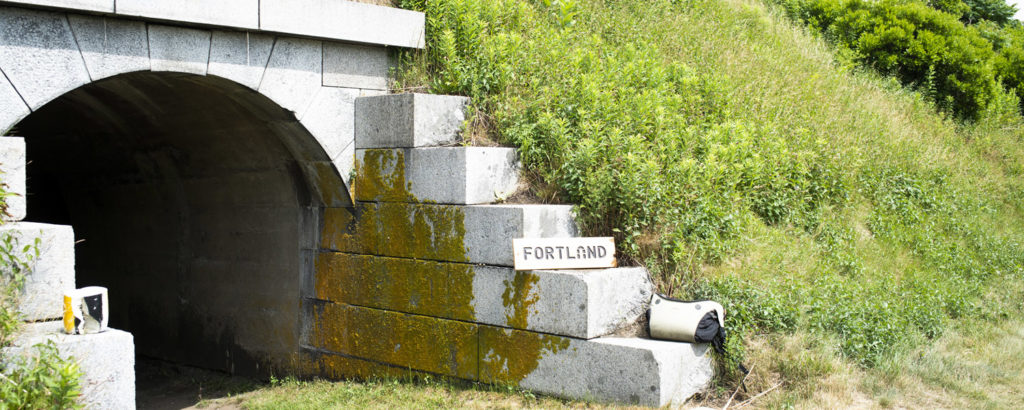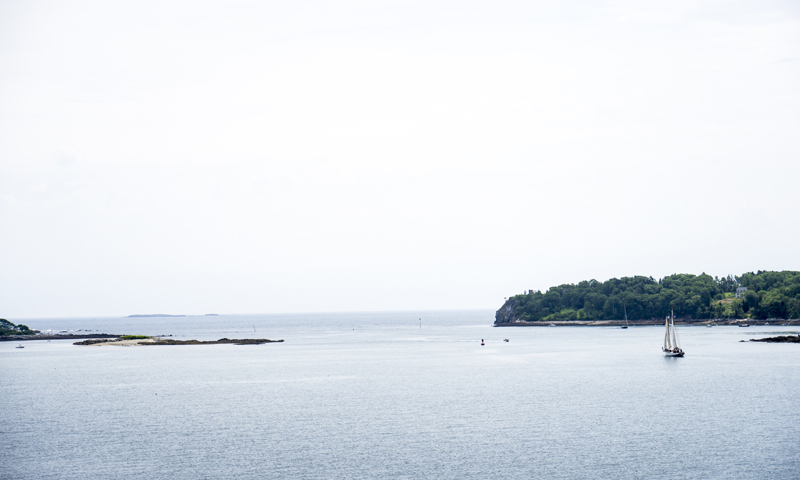 Once the couple was back on Portland's Working Waterfront, they took a last look at the bustling shops, restaurants, and hotels as they reflected on their 7 days of adventure across Maine.
It was just a quick 20 minute ride to their home in southern Maine. Locals love sharing favorite places and hidden gems with visitors enjoying everything the region has to offer. So, come and stay a while.
You can find a bit of everything in Maine.
---
Meet Amy + Dan
Capshore Photography
Amy + Dan are a Southern Maine photography duo. You'll find them in the great outdoors—exploring Maine—enjoying agritourism, supporting local businesses, and documenting their adventures to show viewers that you too can enjoy all that Maine has to offer. Learn more at capshorephotography.com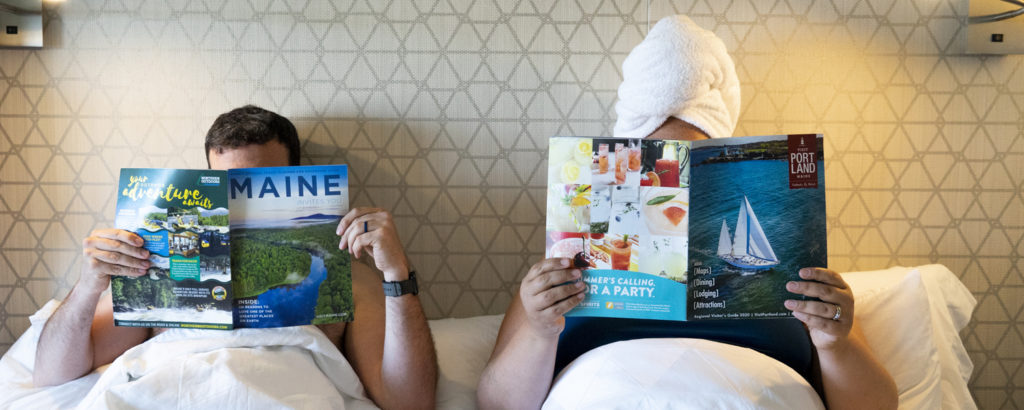 Check out Amy (@capshore) and Dan (@itsdannyo) on Instagram and be sure to visit their Maine Lakes + Mountains, Maine MidCost, and Greater Portland highlights for more about their trip across Maine. From nature trails and forest bathing to fine-dining and wine weeks.
---
Romantic Winter Weekend Getaway
Want more? Last year, we partnered with local lovebirds Amy + Dan to give you a peek behind the curtain of all there is to do in Greater Portland, Maine during Winter. We don't let snow slow us down around here. Greater Portland keeps world-class food and drink flowing and the arts and entertainment hook-up lively year-round.
So, why not bring your favorite person along for a weekend of cozy, winter romance?