Winter Activities in Portland, Maine
winter activities in maine
the colder months is our destination's best kept secrets
One of the first ways to add seasonal charm to your visit is with a horse and carriage ride in the Old Port. Make sure to bundle up and grab a hot chocolate or cup of joe from one of our many local coffee shops to enjoy as you view the historic beauty of Maine's most prominent city.

If your itching for a little activity of your own, join Portland residents for some urban skiing! The Eastern Promenade and Green Belt trails cater to runners and walkers, cyclists and skateboarders in the warmer weather and alternately fans of cross-­-country skiing and snowshoeing in the winter. On particularly snowy days don't be surprised if you see errant skiers forgoing the trails and instead taking to the streets. Downhill skiers can find solace at one of Maine's many ski mountains.
year-round activities
The vibrant visual arts scene offers exhibits that appeal to all ages and interests. Visit the Portland Museum of Art or Victoria Mansion right downtown. Head north of Greater Portland to the Maine Maritime Museum, or south to the Maine Classic Mar Museum. If performance art is more of what you're looking for, not only can you enjoy live music at venues like the State Theatre and Merrill Auditorium, but exciting theatrical and dance performances from Portland Ovations and the city's own ballet company.
When you're ready to people watch and socialize we take bar-­-hopping to a new level with the seasonal availability of outdoor ice bars. Great blocks of ice are carved into eye-­-pleasing configurations from whimsical characters to sculpted piping systems that keep your drink cool as the liquid sluices into your ready glass. To maximize your ability to incorporate all of these forms of entertainment (and more) into one trip, plan your vacation to coincide with a winter festival. Each community from Greater Portland puts together a special program of activities, games and competitions. Chili and chowder cook offs, ice skating and sled dog races are some of the additional crowd-­-pleasing pursuits available during these events. Explore neighborhood breweries, pubs, and distilleries along the way. You'll find hidden gems and local faves around every corner. Make sure to venture throughout downtown Portland to experience more flavors like Root Wild Kombucha, Rising Tide Brewery, and Three of Strong Spirits up in East Bayside.
winter fun
As proud Mainers, we are pros at finding fun – and staying warm – through the coldest of winter days. We've come to understand the joy of cross country skiing through a quiet forest or the thrill of hearing ice skates glide over smooth ice, then, at day's end, finding a cozy fire and warming food and drink to take off the chill.
We know we're lucky to live in a region that offers so many invigorating outdoor opportunities, as well as internationally celebrated dining and lodging, and we're proud to share a few of our favorite ways to enjoy a Greater Portland winter day from start to finish.
morning pick me up
Yes. Our parents were right when extolling hearty breakfasts on cold days. Here are a couple of warming options:
Donuts: We are fans of starting our winter day with a treat at Portland's The Holy Donut, home to justifiably revered donuts made from fresh Maine potatoes! Donuts go fast at their locations, so timing is everything. Our favorites include the sea salt and the pomegranate donuts. Insider's tip: Ask which donuts are fresh out of the oven at The Holy Donut for the warmest treat on a cold day.
Coffee: Grabbing a handcrafted, micro-roasted coffee from Coffee By Design has been a long-time pleasure for Portlanders. With five locations, a CBD is often just around the corner. Our favorite winter locale is the Coffee Bar on Portland's Diamond Street, which features gorgeous woodwork and large windows that let in plenty of natural light, a real treat in winter. An added bonus, you can check out CBD's roasting facility through windows at the back of the space and take home a package of your favorite freshly ground or whole beans. Among our favorites on a cold morning: a double cappuccino in a deep white mug.
gearing up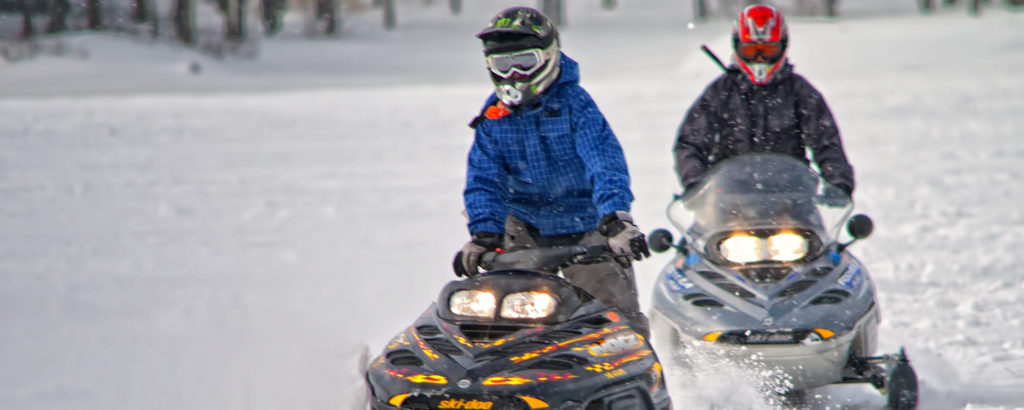 Finding the right equipment for fun and warmth is key for making the most of time outside. Here are helpful resources:
Gear: It's no surprise that our go-to for gear is Freeport's L.L. Bean, the first and last word in outdoor clothing and gear. L.L. Bean has the answer to any challenge of being cold outside, and the store's staff are really expert in helping customers choose the right cross country skis or snowshoes. In addition, L.L. Bean's Discovery Schools offer invaluable instruction – whether it's for skiing, snowshoeing or, for the hardiest souls, ice fishing.
Insider's tip: When asking the age-old question about "just how cold is it?" Portlanders turn their gaze up to the top of the 14-story "Time and Temperature Building" which features a giant time/temperature display visible from much of the peninsula. True to its nickname, the time and temperature flash intermittently from the sign, along with some creative advertising, because the sign only displays up to four characters at once
outdoor EXERCISE
Once properly geared up it's time to head outside, and Greater Portland has no shortage of great options:
Skating: The newest skating option is the rink at Thompson's Point. With great views of Portland and the Fore River, well maintained ice, a warming room, heated lounge, and on-site eatery, it's open-air skating (with roof) that can't be beat. Don't own skates? Rentals are available. For other options, if Mother Nature cooperates with good ice, Deering Oaks pond in Portland and Mill Creek Park in South Portland offer memorable skating in lovely park surroundings.
Sledding: For those seeking the simple joy of sledding down family-friendly hills, Portland's Eastern Promenade and Payson Park offer sweet slopes that have entertained generations of Portlanders.
Cross country skiing: Pineland Farms in New Gloucester is a favorite destination for cross country skiers and snowshoers with extensive, groomed trails in a bucolic setting with far flung views that include New Hampshire's Mount Washington. Setting out on skis on a crisp, sunny winter day is an experience rarely equaled. Gear is available for rent, and Pineland Farms also offers sledding and skating. Lessons are available by appointment. After skiing and snowshoeing, the cafe offers a huge selection of healthy soups, sandwiches and snacks.
Winter Views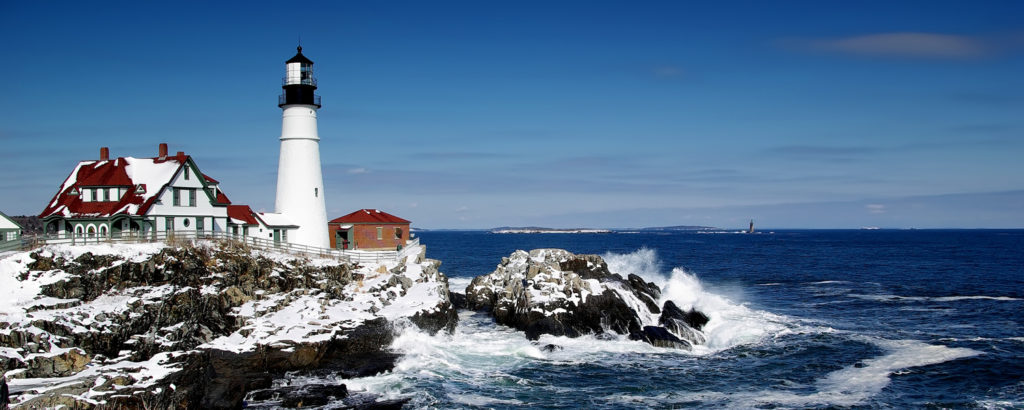 Whether walking, skiing or snowshoeing, Portland Trails is a terrific resource for exploring the area. Portland Trails' website features a search of snowshoe- and ski-friendly routes. Our favorite winter paths include Portland's Back Cove and East End Beach, as well as Mackworth Island and Gilsland Farm in Falmouth. Finally, Wolfes Neck Woods State Park in Freeport offers engaging views from charming trails that are perfect for snowshoeing.
Hitting the beaches: We find there's nothing better than a walk along a winter beach on a "mildish" day. Among many fine local choices, one of our favorites is Pine Point in Scarborough. There's something about the sound of the breaking waves coupled with a recent snow that we find revitalizing. Added bonus: Parking isn't a problem in winter, and the tides keep the sand exposed for easy walking.
Insider's tip: For a glimpse of the power unleashed by a winter storm, we look forward to seeing waves crash against the rocks at Portland Headlight in Cape Elizabeth after a storm. (Safety tip. Wave sizes can vary greatly and rocks are slippery, so follow the safety guidelines posted in the park.)
keeping kids entertained
While we pride ourselves on getting out in the cold, there are some days that we crave warmer indoor fun. Here are some of our favorite options for family fun when cabin fever sets in.
Bayside Bowl in Portland is much more than a place to bowl. We love the quality food, craft beers and local music. (Yes. There are bumpers for kids.) Tip: Call ahead to check on lane availability.
The Children's Museum & Theatre of Maine is one museum where our kids are encouraged to touch! Fun and learning are the name of the game. We've found that the lobster boat and fire truck are dependable kid magnets.
Have the kids get their energy out at The Movement Lab Collective., a parkour training space. Located just a half hour from Portland, this gym is full of obstacles, trampolines, and trained professionals in parkour!
a night cap
Lingering over a perfectly mixed drink in stunning surroundings is the perfect way to relax after an active day. We like to settle in and enjoy the following spots:
The Ice Bar at the Portland Harbor Hotel has become an annual tradition that's worth seeking out if it coincides with a winter visit. Think ice sculptures, music, fire and intriguing drinks, all outside! Perfect.
Since 1963, locals have taken the elevator to the Top of the East for unparalleled views of Portland and a sophisticated experience, including exquisite drinks. Atop the newly refurbished Westin Harborview Hotel, the Top of the East's floor-to-ceiling windows offer a breathtaking view of the city blanketed in snow against the backdrop of Casco Bay.
a cozy sleep
A cozy retreat to an inn with warming fireplaces is the perfect ending to the day. We are lulled asleep thinking of so many great local options. Here are a couple:
Portland's Percy Inn is a 1830 Federal-style brick row house off Longfellow Square, just steps away from shops and restaurants. This quaint, downtown inn is the perfect setting for a winter's evening.
The Blind Tiger is our dream mid-winter getaway. Its one-of-a-kind guest house in an updated nineteenth-century home located in the heart of the West End makes for a great romantic getaway.
---
view more itineraries
From family vacations to wedding weekends, and everything in between, we have the travel plan for your picture perfect vacation. Whether you're interested in our art & culture scene, food + drink, or outdoor adventures—we got your back. Safe travels! Learn more.