Portland's Must See Public Art
Art is popping up all around in Greater Portland, Maine.
Artistry and creative skill are on display in every corner of Portland's downtown district (and beyond). Here you'll find an intersection of history and modern art where murals by immerging artists mingle with historic statues and sculptures. As soon as you think you've seen it all – something new will spring up and surprise you.
Keep reading for free, must-see public art across Greater Portland, Maine.
---
Creative Bus Shelters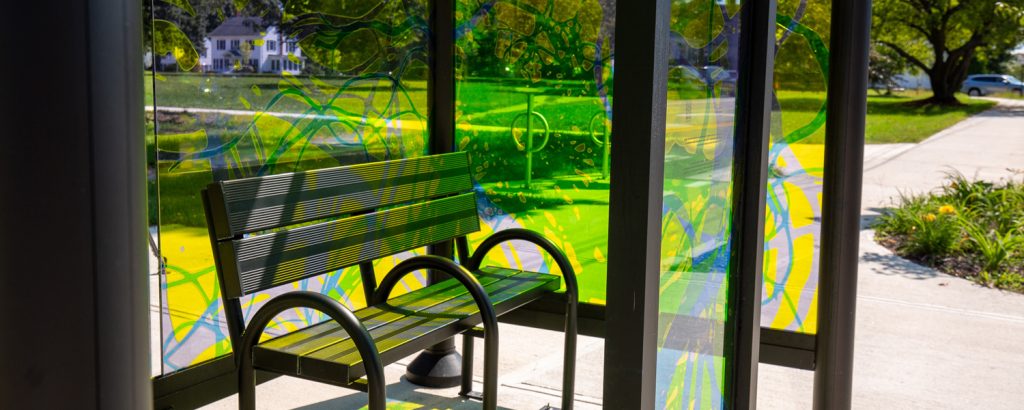 Creative Portland, alongside METRO and the Greater Portland Council of Governments, initiated a Creative Bus Shelter project to utilize these structures as a canvas for local artists to showcase immersive art exhibits to the community while encouraging public transit. In the first wave of bus shelters Ebenezer Akakpo's native Ghanaian Adinkra symbols in his design "Hope & Friendship" was crowned 2022 Best Bus Stop in the USA.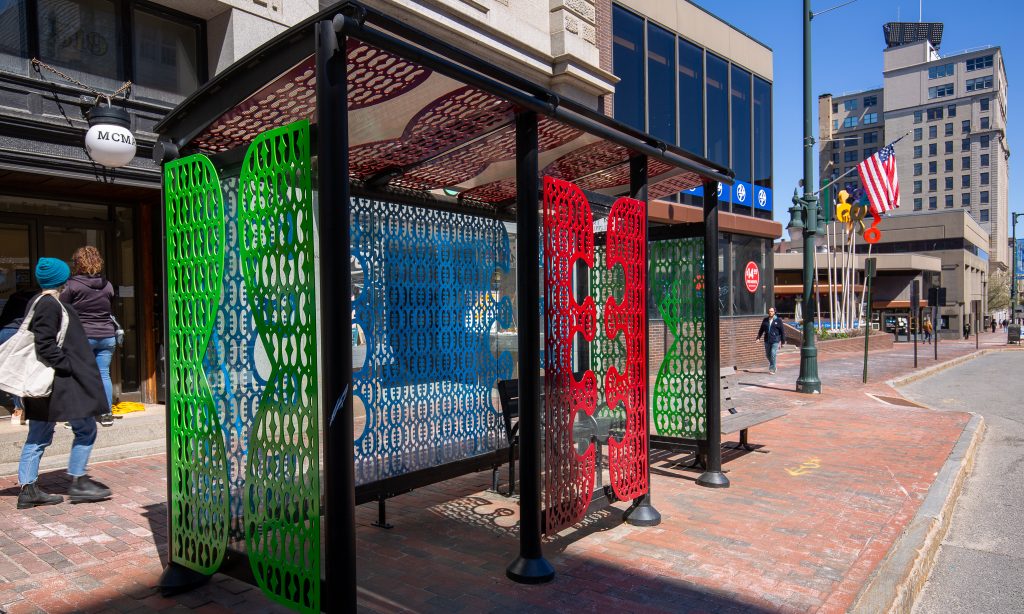 Want the locations and unique stories behind the bus shelters? Learn more on Creative Portland's website.
---
Murals, Sculptures, and Statues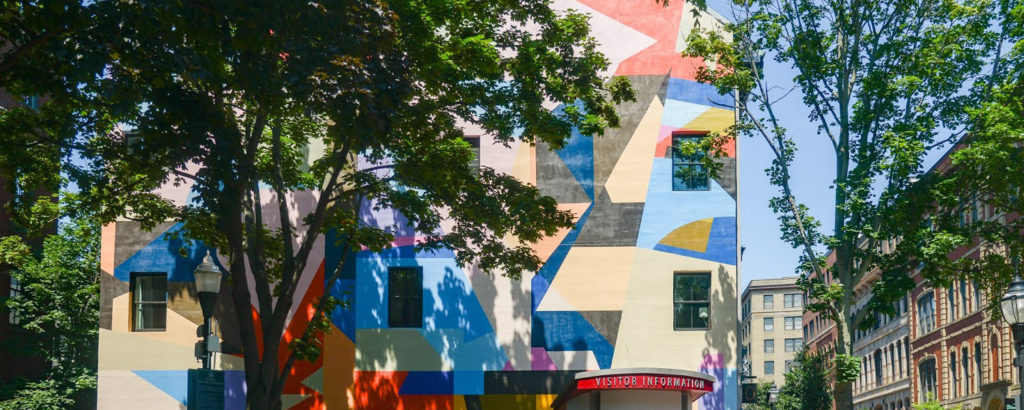 You'll find selfie ready murals and paintings all across our city by the sea. You won't be able to walk our cobblestone streets or explore Congress St. in the Arts District without hitting a few favorites. Or grab area info and an eyeful of bright, beautiful colors at Will Sears' mural in Tommy's Park next to our Information booth.
Want to make sure you're not missing any of the public art around town? Visit Creative Portland's Public Mural Tour for a map and database of mural locations around Portland.
Clam Digger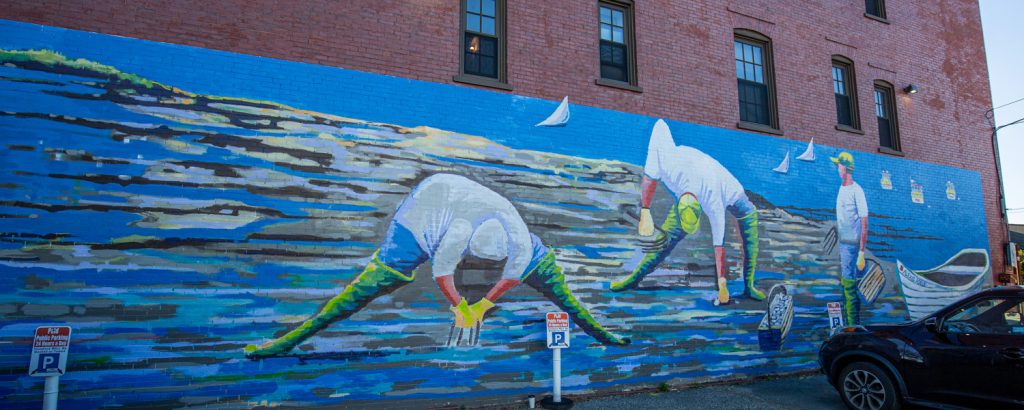 This mural is so Maine. This painting by Susan Bartlett Rice is up on Congress and Washington. There you'll find a team of maritime folks digging for clams amongst the boats, waves, and seagulls.
East Bayside Community Mosaic Mural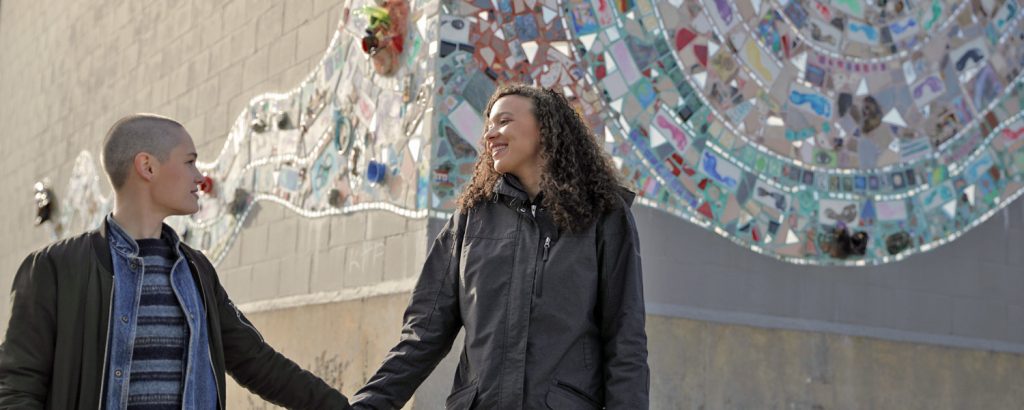 One mural in Portland that pulls the viewer in is the East Bayside Community Mosaic Mural by Muhsana Ali. The mural was a community project led by Muhsana Ali, the University of Southern Maine Artist in Residence at the time of completion.
It was also co-sponsored by the USM School of Social Work, the USM Art Department, and Coffee By Design. The mosaic is a beautiful way of bringing together the diversity of the East Bayside community.
It's a mixture of pottery and painted glass, a Sengalese art form. It also serves as reminder to the immigrant community in Maine that they are included and always welcome.
Storytelling in Kennedy Park
Almost immediately across the street from the mosaic mural mentioned above is Storytelling in Kennedy Park. A painting on the far side of the basketball court lining Fox St, by Andrew Schoultz.
Keep walking along the bayside trail and you'll find colorful geometric or abstract shapes clinging to businesses around every corner. It's a perfect place to the grab a local coffee and explore the sights.
David E. Shaw and Family Sculpture Park behind the Portland Museum of Art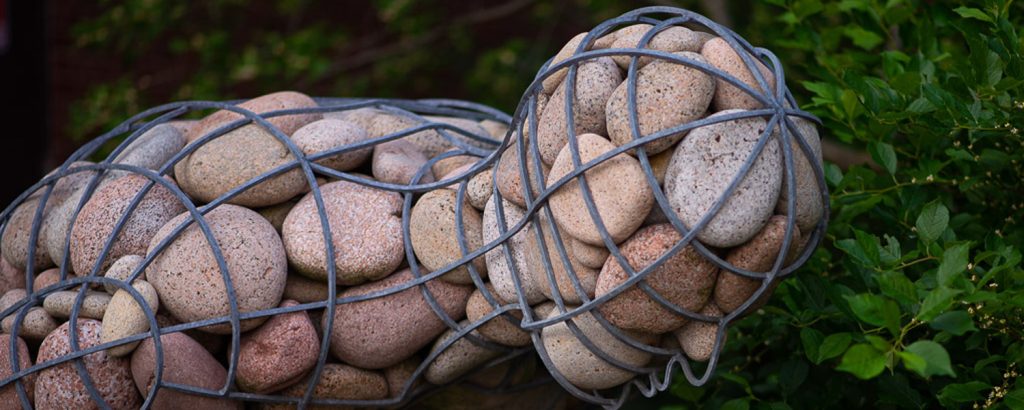 There's no denying the David E. Shaw and Family Sculpture Park is one of the best places in the city to see public art on display. One particular sculpture in the park that's received much attention is Celeste Roberge's Rising Cairn. A cairn is a pile of stones used by hikers to mark trails.
What the piece symbolizes is open to interpretation, but looking at it, the viewer can feel the weight that the sculpture carries, whether it be emotions or something more.
Check online for ongoing updates about the Sculpture Park's hours.
Beneath the Forest, Beneath the Sea in Payson Park
A new sculpture project currently on display is Pamela Moulton's Beneath the Forest, Beneath the Sea. You can find the public art in Payson Park, where it's on display until 2023. These sculptures consist of three free-standing whimsical statues of abandoned fishing gear, steel, and rope. The piece was made in collaboration with over 5,600 individuals and individual volunteers to pull it together.
Beneath the Forest, Beneath the Sea is public art created by the public and for the public. Unlike many other art installations, people are encouraged to touch, crawl, and picnic under the sculptures. Whether you're enjoying looking at the art or it inspires a discussion about how to help the environment, they are meant to spark something within.
The Maine Lobsterman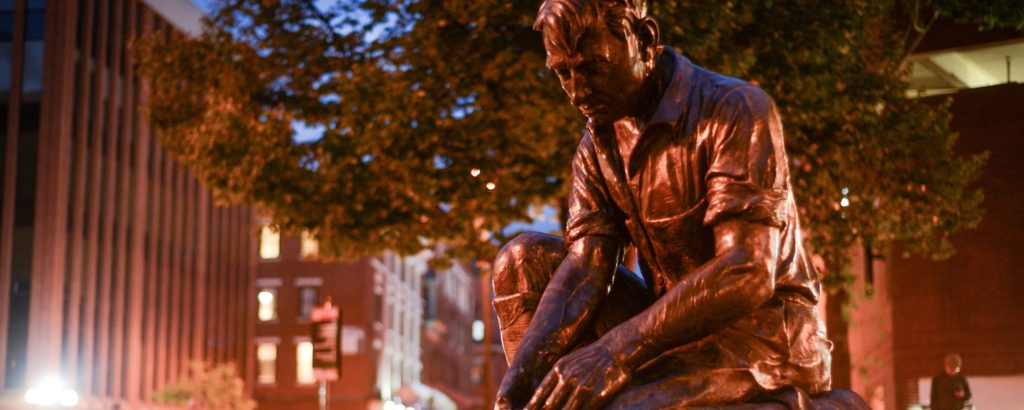 The Maine Lobsterman is one of the most quintessential statues in the city of Portland. Portland sculptor Victor Kahill was commissioned to create it because Maine participated in the 1939 World's Fair.
It commemorates the many Mainers who have dedicated their lives to fishing. When looking at the statue, you'll notice that it shows the lobsterman kneeling while banding a lobster claw. There are also three bronze copies of the statue on display in Augusta, Washington DC, and Bailey Island.
Henry Wadsworth Longfellow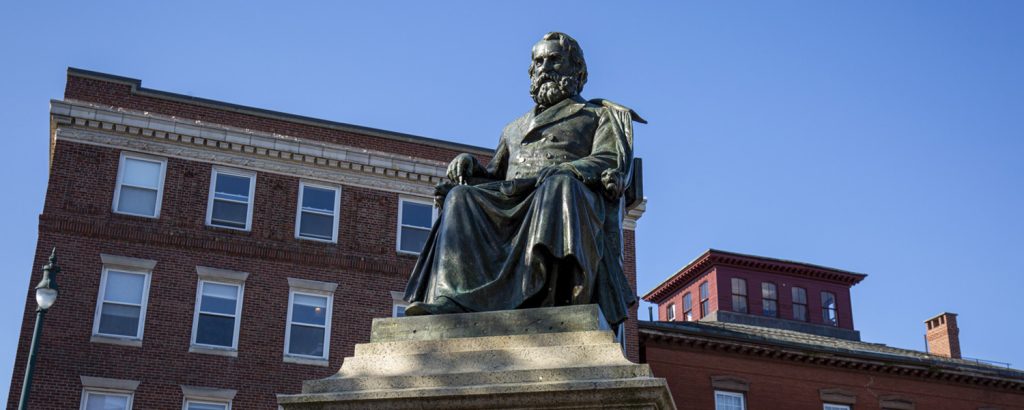 You can find the iconic Henry Wadsworth Longfellow statue in Longfellow Square. It was commissioned to commemorate and memorialize well-loved 19th-century poet Henry Wadsworth Longfellow.
Portland sculptor Franklin Simmons (who also created the Our Lady of Victories Monument that sits in Monument Square) made the beautiful and well-recognized statue.
Franklin Simmons was one of the nineteenth century's leading sculptors. In the sculpture, Longfellow sits with his right arm resting along the back of his chair while he holds a scroll in his lap with his other hand.
There are three bronze books under his chair. The sculpture allows Longfellow to face the city's center, and during the holiday season, he often has a scarf around his neck and a wrapped present in his hand.
Our Lady of Victories Monument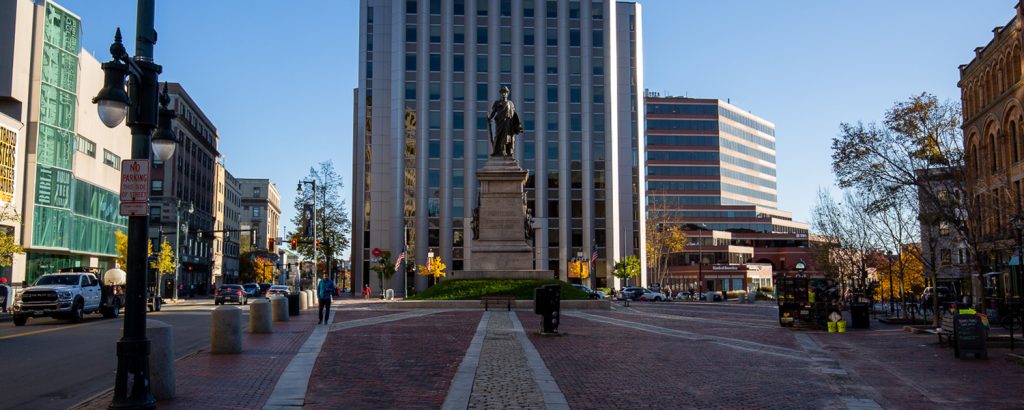 Our Lady of Victories is in Monument Square and is one of the largest statues you'll find anywhere in America. It was dedicated to the memory of over 5,000 soldiers and sailors from Portland who served in the Civil War.
Our Lady of Victories is a bronze statue depicting Nike, the goddess of victory. She is on top with other figures at her side and was sculpted in Rome. Franklin Simmons, a native of Maine and Portland, created the sculpture and was the same sculptor of the Henry Wadsworth Longfellow statue you can find in Longfellow Square a few blocks away.
---
Art is one of the many beautiful things that makes Portland an incredibly vibrant city. Whether you live here or you're coming for a visit, there's no shortage of things to do. Find more on our art + entertainment page.