48-Hour Winter Getaway to Greater Portland
Do you love Maine? Why not get away to Greater Portland when things are slower, quieter, and more relaxed?
Keep reading to learn what a 48-hour winter getaway to Greater Portland could be like!
---
DAY 1

:
Go Off Grid By Glamping in Pownal
Get off the grid by glamping in Pownal. You'll have an entire tented cabin to yourself, including a Queen bunk bed and access to a pop-up tent to accommodate four additional campers.
Whether you're looking for a romantic evening under the stars in Bradbury Mountain State Park or you want to enjoy the tranquility of a Maine winter evening, you'll find what you need at your campsite. Take advantage of the wood-burning stove to stay warm (it gets chilly in December!) and make some s'mores while relaxing in two of the provided Adirondack chairs.
Get back to your core and take in the natural, unbridled beauty that Greater Portland has to offer. After your evening glamping, check out Bradbury Mountain State Park for a moderate but comfortable hike.
Check out the Greater Gorham Winter Market
Pownal is only a quick 45-minute drive to Gorham, just 9 miles outside Portland. Gorham is a college town home to the University of Southern Maine. Its influence can be felt throughout Gorham, from its coffee shops, boutiques, and quintessential New England architecture.
If you're in the area, come check out the Greater Gorham Winter Market, taking place on the first and third Saturday of the month through February. It's a great way to support local purveyors and stock up on your favorite meats, produce, mocktail mixers, and much more!
After getting what you need at the Winter Market, meander around downtown Gorham. With bookstores, cafes, and one-of-a-kind boutiques, you're sure to find something that will catch your eye.
Get into the Holiday Spirit with the Lights in Downtown Westbrook.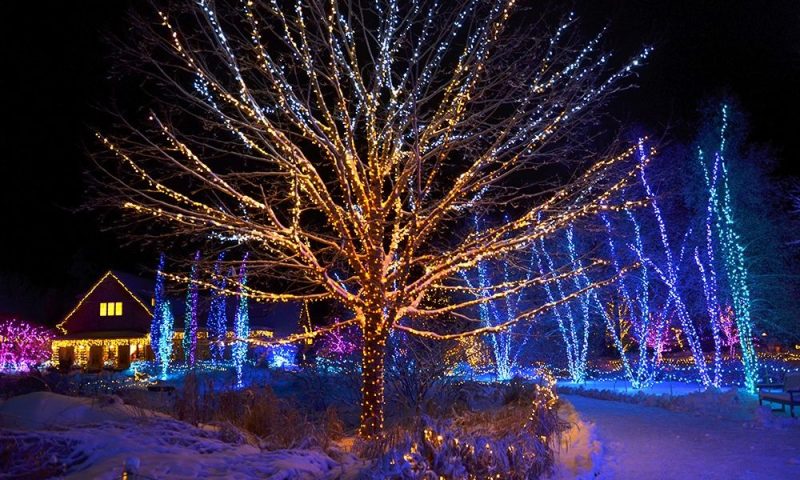 One thing that makes Greater Portland such a great place to get away to is it's easy to get around. Gorham and Westbrook are only a few minutes apart by car. You can also hop on the Husky Line and get off in downtown Westbrook if you want to be more eco-conscious.
This year, downtown Westbrook is all aglow! With holiday lights, that is. There are amazing scenes along every inch of Main Street, including a new holiday tree in the Westbrook Commons with state-of-the-art lights that sync with holiday music.
Continue along Main Street to nearby Riverbank Park, where you'll find a sight straight out of the North Pole! There are lit-up arches, candy canes, seals bouncing presents on their noses, a moose, Santa and his reindeer, and so much more to see! You won't believe your eyes, but it's a marvelous sight.
Stop into one of the delicious restaurants along Main Street to warm up and support small businesses during your getaway!
---
DAY 2:
Luxury Meets History During a Stay in Portland, Maine
After a night glamping in Pownal and exploring some of the sights in Gorham and Westbrook, lay your head in a luxurious room at the Francis Hotel & Spa. The Francis is a stunning boutique hotel located within a beautifully renovated and restored historic mansion.
Located in Portland's Arts District, you'll be within walking distance of some of the best coffee shops, including Coffee By Design. Do you fancy something a little sweeter to go with your coffee?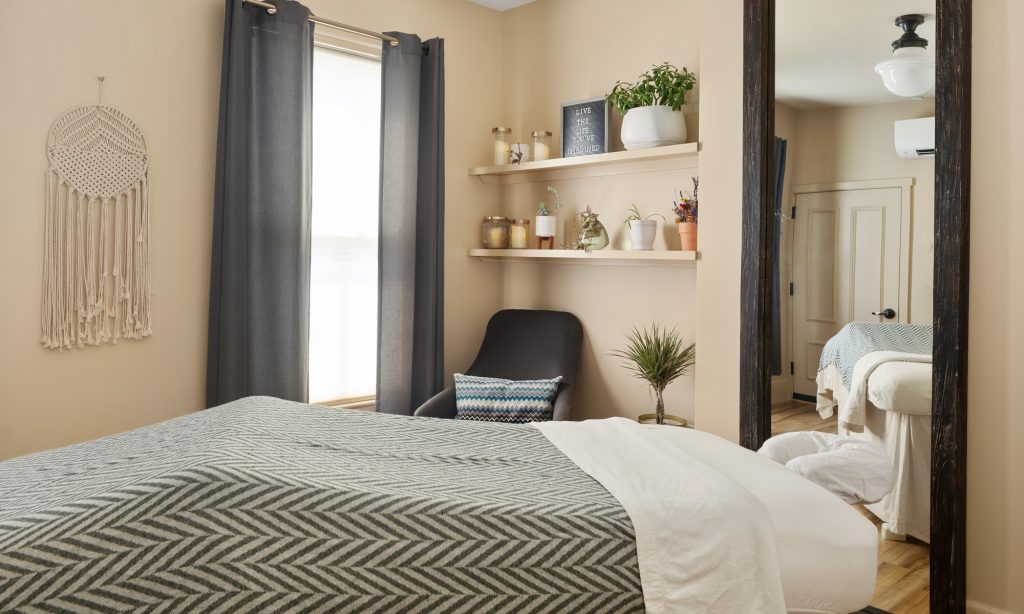 You're only a few blocks away from the infinitely popular Holy Donut location on Park Ave, serving up everyone's favorite potato donuts in classic flavors like chai, chocolate sea salt, and glazed sweet potato. A stay at the Francis puts you within a few blocks of other incredible sights, like the Pandora holiday lights you'll find throughout the city. Another can't-miss activity you'll be within walking distance of is the Portland Museum of Art.
The Portland Museum of Art (affectionately called the PMA) is home to an incredible body of work, including contemporary and modern art and Maine artists that highlight many reasons people love Greater Portland and beyond. When you return from an afternoon of walking around the city, take advantage of the spa at the Francis.
You'll find many rejuvenating treatments, including the Full Spa Treatment, featuring a whole body dry brush, sixty-minute oiled massage, and a warm towel compress to calm your mind. After your treatment, you'll leave feeling like a brand new person. Head upstairs after you're finished to relax in your room!
Stay Near the Action in the Bustling Old Port at Aloft Portland Maine
Do you want to stay closer to the action in the bustling Old Port? A perfect place is Aloft Portland Maine. Aloft combines the best in urban sophistication while being steps away from some of the city's best fine dining, like Scales, Luke's Lobster Portland Pier, and Boone's Fish House & Oyster Room.
During your Greater Portland getaway, you'll have no problem finding fresh lobster, mussels, clams, or oysters on the half-shell. Warm up with a bowl of clam chowder at Gilbert's, and check out the working waterfront that never sleeps, no matter what time of year it is.
Remember to get the best deals by participating in this year's Merry Madness! Available via the Scavify app from December 8th through the 30th, you can shop until you drop throughout the Old Port, getting special deals and steals from local shops and vendors.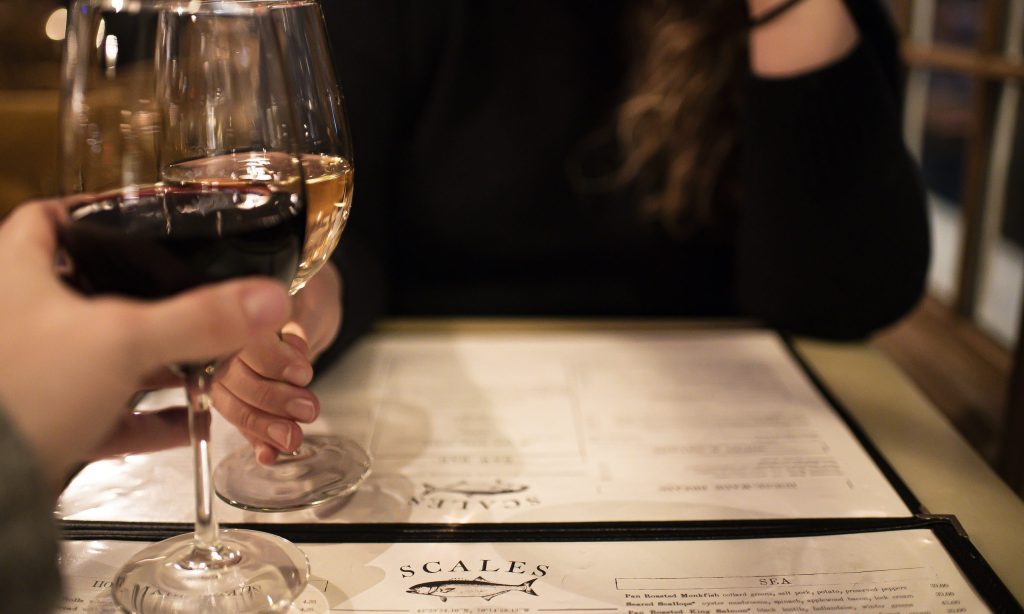 If you still have some holiday shopping to finish, take advantage of Merry Madness and get in on the fun! If you're around, you can participate in the Merry Madness Kickoff Party on Thursday, December 8th.
Make sure to buy a ticket for this 21+ event, which is sure to sell out and is always a great way to start the holiday season's festivities.
Go Ice Skating at Deering Oaks and Stop for a Drink with a View at Top of the East
You can't have a getaway in Greater Portland without a little outdoor fun! Why not go ice skating at Deering Oaks Park? You'll have to bring ice skates, as they do not offer rentals at Deering Oaks Park.
Before setting out, we recommend checking online to ensure the ice is groomed and ready for skaters. If it is, you can take advantage of one of the city's best places to ice skate!
Pandora's lights hang suspended all around you, creating a magical glow while you're skating. Bring a thermos of hot chocolate, or walk up the hill to the Top of the East after you're tired.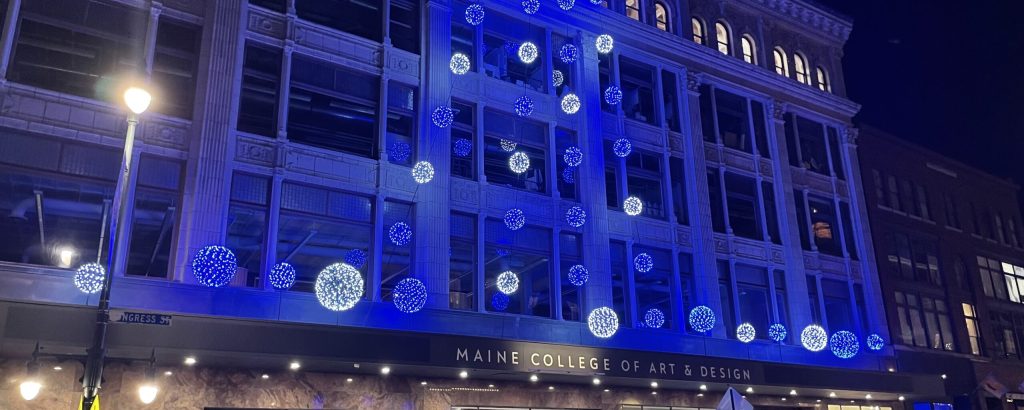 You'll be able to enjoy views along with sumptuous cocktails. Ask for the City Key with McQueen, Violet Fog Gin, Violette liqueur, Lavender reduction, and fresh lemon.
You'll feel warm, inside and out, while looking out at one of the city's finest views. Retire to your room for a well-deserved rest since you've seen a lot during your 48-hour getaway in Greater Portland.
Ready to get away? Contact Visit Portland to learn more about how to make your winter getaway a reality in Greater Portland!
---