PORTLAND'S TIMELINE + HISTORIC SITES
HISTORY, CULTURE, AND COMMUNITY
Originally called Machigonne (Great Neck) by the Native Americans who first inhabited it, the Portland peninsula was established by the British in 1632 as a trading and fishing settlement. Industry grew and Portland's waterfront became a mecca for shipping and trading companies. The name was changed to Casco and, in 1658, to Falmouth. Local citizens renamed their town Portland in 1786, and in 1820 Maine became a state, with Portland serving as its first capital.
PORTLAND'S FORTS
Fort Preble
Fort Road, Southern Maine Technical College. Once used to guard approach to Portland Harbor.
Fort Scammel
A Civil War Fort on House Island, is an interesting tour and clambake spot. At the turn of the century, House Island served as an immigration hospital for thousands of immigrants entering America.
Fort Gorges
The octagonal stone fort visible off Portland's Eastern Promenade can be visited by private boat. Designed in 1858 for short-range guns, the fort was soon made obsolete by the development of long-range guns and was never fired upon.
PLACES TO SEE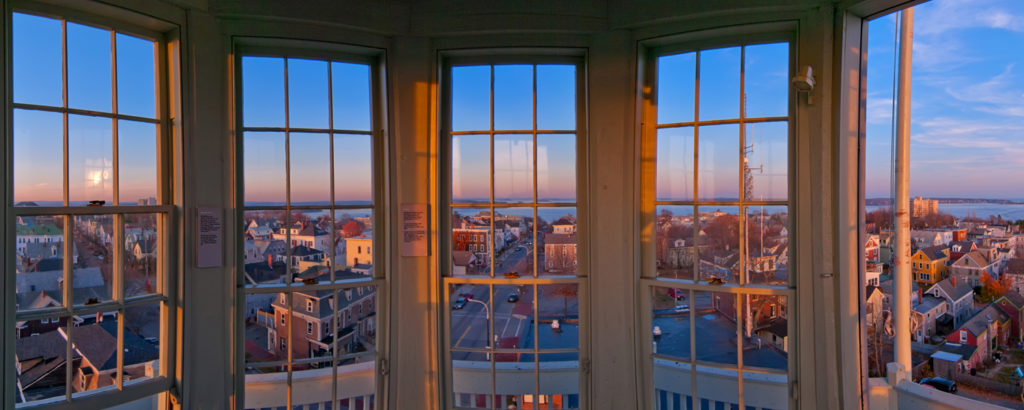 Portland Observatory Museum
National Historic Landmark in Portland's East End. Only remaining signal tower in America. Views of cruise ships, lighthouses, and Western Mountains.
Deering Oaks Park
51-acre park was scene of 1690 battle between colonists, French and Indians. Ancient oaks dot the grounds, Rose Garden, playground, duck pond, tennis courts. Saturday Farmers Market in season.
Eastern Promenade
Neighborhood with amazing views of Casco Bay. Large grassy area is a great place to bring a book, have a picnic or play a game of Frisbee, and enjoy the boating activity on the water. There is a small beach that is open to the public.
Maine Irish Heritage Center 
European style cathedral served as the center of Irish Culture for over 150 years. It now houses Maine's Irish genealogical center and library, presenting the story of Irish history in Maine.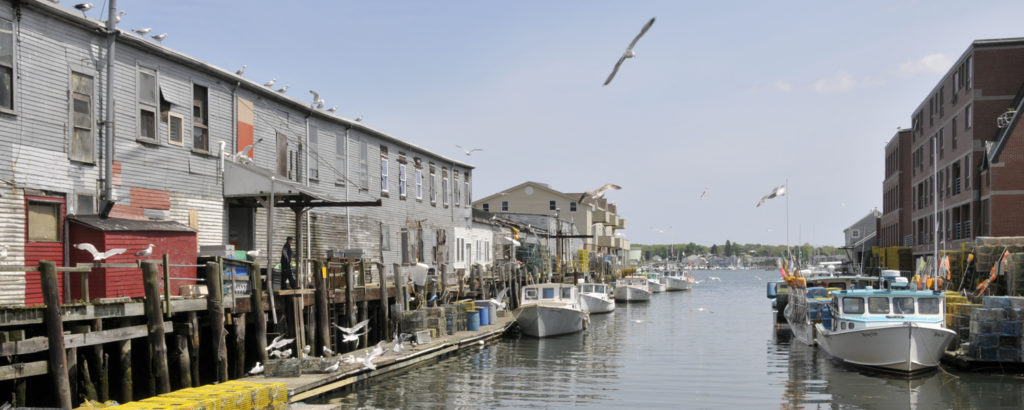 Old Port
The historic center of the original settlement is centered around its commercial port. In 1866 it suffered a disastrous fire and was rebuilt almost immediately in grand Victorian style, demonstrating the city's economic resilience.
U.S. Customs House
Built 1868-1871. Constructed of New Hampshire granite. Elaborate interior includes painted and gilded ceilings, fine crafted woodwork and marble floors. Still in use by Customs Service and the Coast Guard.
Portland Museum of Art
Charles Shipman Payson wing built 1979-83. Henry N. Cobb of I.M. Pei, architect. Contemporary Post- Modern, reflects a traditional architectural vocabulary. Built of locally-made brick with granite string courses.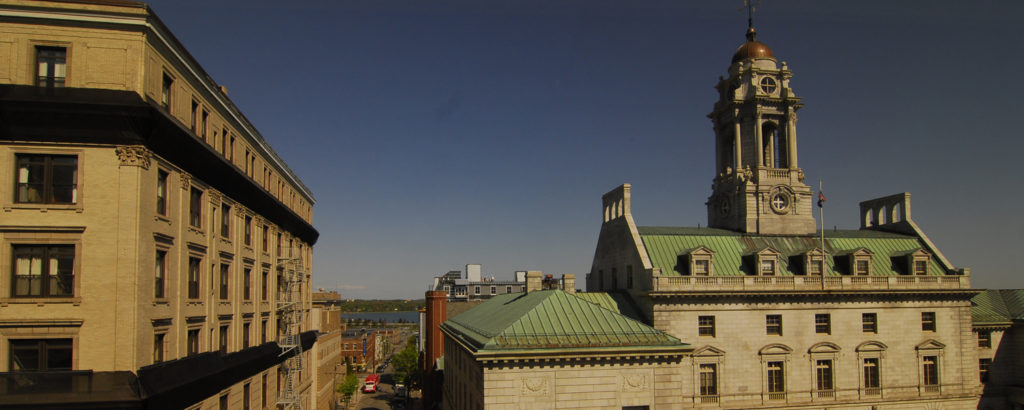 Portland City Hall
Second Renaissance Revival, 1909-1912. Designed by Carrere and Hastings of New York.
Western Promenade
Spectacular views, 175 feet above sea level, Portland's Western Promenade dates from the turn of the century and exhibits the city's well preserved Victorian residences.
TIMELINE
1632 – English settlers inhabited the Portland Peninsula, then called by the Indian name Machigonne. The name was changed to Casco and, in 1658, to Falmouth.
1652 – The entire Casco Bay area became part of the Massachusetts Bay Colony.
1675 – Area completely destroyed by Indians during King Philip's War.
1690 – Fort Loyal destroyed by French and Indians.
1775 – British warships under the command of the notorious Captain Henry Mowatt shelled and burned the city of Falmouth.
1776 – After the Revolutionary War, Falmouth was established as a commercial port and began rapid growth as a shipping center.
1786 – Local citizens renamed their town Portland.
1820 – Maine became a state and Portland its first Capital.
1820s – Portland recovers from the Embargo Act and War of 1812. Maine boats could trade all over the world.
1823 – First steamship from Boston; beginning of regular passenger service between the two cities.
1852 – Commercial Street opened to connect rail and water transportation networks.
1866 – The Great Fire of 1866, started by a 4th of July celebration, destroyed most of the public buildings, half the churches, and hundreds of houses. The city was rebuilt with brick Victorian style and early 20th century houses, now seen throughout Portland.
1941 – Portland became the home port of US North American Fleet during World War II.
1961 – Beginning of the preservation movement in Portland.
1970s – The Old Port became an area of artist's studios and a lively retail center.
1980s – Emphasis placed on preserving the waterfront for active commercial marine activities.
1990s – Revitalization of the city's major artery, Congress St., and establishment of downtown Arts District.
2001 – Passenger rail service between Boston and Portland revived.
2012 – Maine, Maryland, and Washington became the first states to legalize same-sex marriage through popular vote.
2014 – Ferry service resumes between Portland and Yarmouth, Nova Scotia
MORE INFORMATION
Maine College of Art's Baxter Library | (207) 775-5152 | meca.edu
Maine Historical Society Library | (207) 774-1822 | mainehistory.org
Osher Map Library, University of Southern Maine | (207) 780-4850 | usm.maine.edu/~maps/
Portland Public Library | (207) 871-1700 | portlandlibrary.com