48 hrs (Plus) in Greater Portland, ME
Must: Stay + Do – Activities & Attractions
Exploring Lighthouses, Working Waterfront, and Culinary Delights
Embark on a coastal odyssey through Greater Portland, Maine – a world-class destination that has earned it's stripes gaining accolades like "Coolest Small Cities in the U.S" by Thrillist and "Best Foodie Cities in the U.S. to Chow Down In" by Redbook in 2023. Nestled along the Atlantic shoreline, the Greater Portland region offers unrivaled New England charm with a cosmopolitan flair.
With its picturesque lighthouses, serene parks, cultural richness, and mouthwatering cuisine, Greater Portland, Maine offers a diverse range of experiences. This adventure promises to leave you with lasting memories of this coastal treasure.
Day One – Arrival in Portland
Photo 1: Aloft Exterior, Photo Credit: Aloft Portland Maine | Photo 2: Lounge with "live" sign, Photo Credit: Capshore Photography
Your adventure begins as you touch down in picturesque Maine. Staying at the Aloft in Portland, Maine, is an invitation to embrace the city's vibrant spirit. The hotel's contemporary design and lively atmosphere set the stage for a memorable experience. Comfortable rooms offer a stylish retreat, and the welcoming lobby bar, Explore the Old Port's cobblestone streets, savor fresh lobster rolls, or take a scenic harbor cruise. The Aloft immerses you in the essence of Portland, making your leisure trip an unforgettable adventure.
After checking in, head down to Commercial street for a "must do activity" brought to you by Wine Wise Events.
Photo 1-2: Wine pours on a wine sail, Photo Credit: Wine Wise Events | Photo 3: Holding-up glass on wine sail, Photo Credit: Capshore Photography
It does not get much better than great wine + sailing off the coast of Portland, Maine, on the immaculate Tall Ship, the Francis, with Sommelier Erica Archer as your guide. This one-of-a-kind experience is highly sought after by locals and visitors alike. Enjoy scenic views of Maine lighthouses, islands, and waterways … all while indulging in a wine class while indulging in five quality wines. The highlight of any trip to Portland. Book early… Tickets sell out well in advance.
Evening: As the sun sets over the Atlantic, indulge in a quintessential Maine experience with a seafood dinner…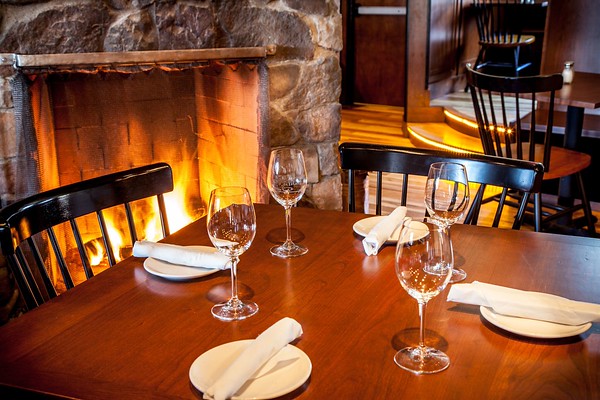 Dining at Boone's Fish House & Oyster Room is a delightful coastal experience. The restaurant, overlooking Casco Bay, offers a relaxed and nautical ambiance with rustic wooden décor and stunning waterfront views. Known for its fresh seafood, patrons can savor a variety of dishes, from lobster to clam chowder, expertly prepared and bursting with flavors. The menu reflects the region's maritime traditions, with an emphasis on locally sourced ingredients. The friendly staff and laid-back atmosphere make it a perfect spot for enjoying classic Maine cuisine while watching the boats go by. Boone's Fish House offers an authentic taste of Maine's coastal charm.
After Dinner – enjoy a nightcap at a cozy bar or pub, while taking in the stunning views of the Casco Bay. The dining scene comes to life as the lights go down. Get in on the happy hours and late night eats.
Day Two – Lighthouses + Must-Do Attractions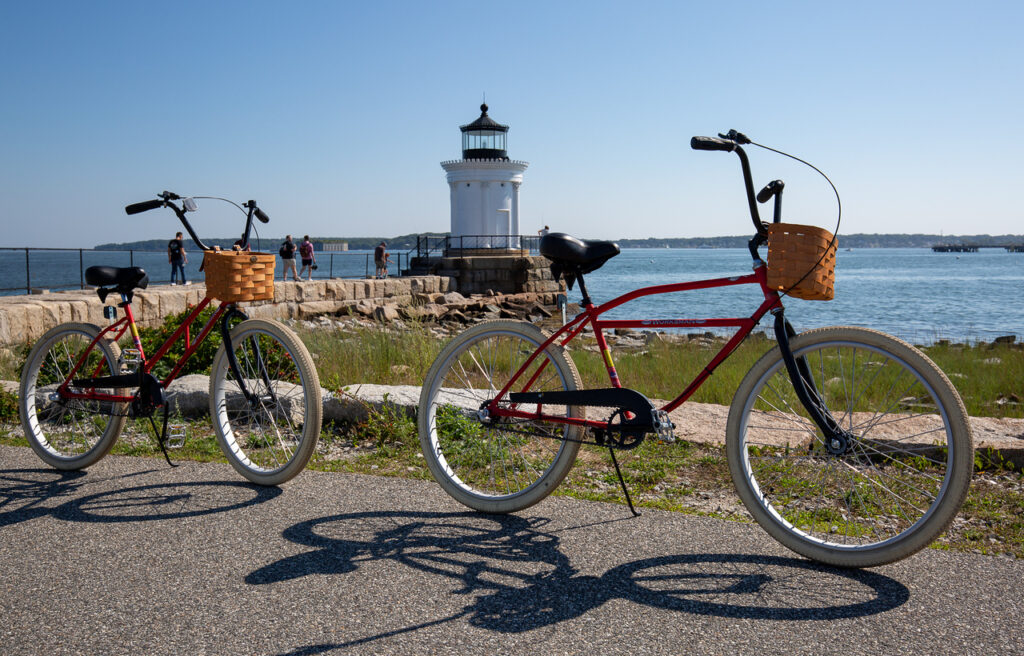 Morning: Head over the bridge to South Portland to Lighthouse Bikes. This attraction provides visitors the opportunity to explore the scenic beauty of coastal areas at their own pace, providing an intimate and eco-friendly way to experience the surroundings. Riding along the rugged Maine coastline, visitors can discover picturesque lighthouses, pristine beaches, and charming villages. This attraction caters to all skill levels, making it accessible to both experienced cyclists and beginners. It not only promotes outdoor activity and appreciation of nature but also allows for a unique, personalized adventure, making Lighthouse Bikes a great attraction for anyone looking to connect with Maine's coastal charm.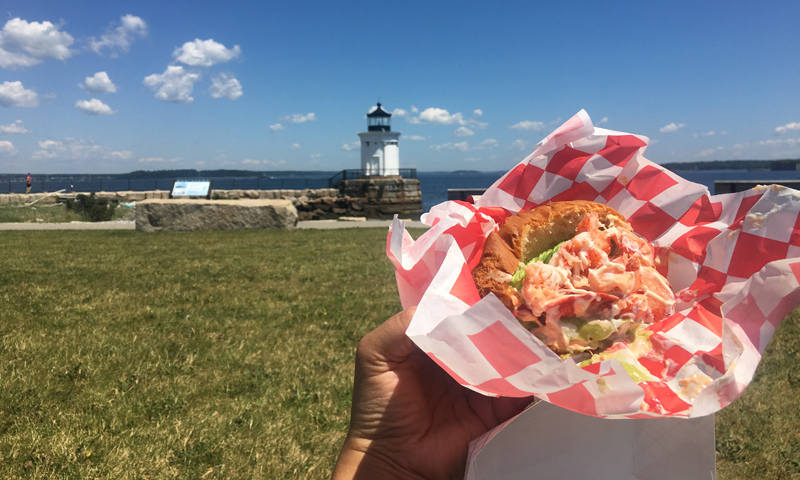 Afternoon: Next up is your Maine Day Adventures Portland Old Port Culinary Tour. As the sun sets, why not venture into some of Portland's emerging neighborhoods? Washington Avenue, an up-and-coming foodie haven, offers an array of culinary delights waiting to be explored. Or immerse yourself in the Arts District, where creative tapas await your taste buds. And don't miss the chance to savor some of the region's local brews in the East End, affectionately nicknamed the "Yeast End" due to its abundance of breweries. With so much to offer, Portland, Maine, ensures that each moment of your journey is packed with delightful discoveries
Day Three: Souvenirs and the Arts District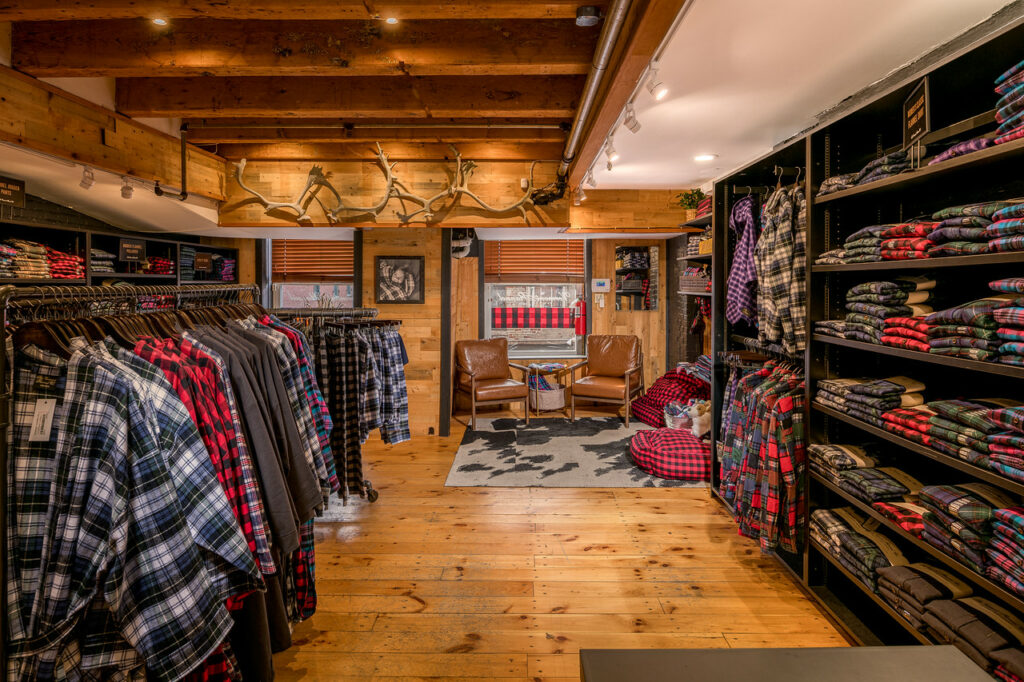 Morning: Before heading out head to Vermont Flannel Company for an exceptional and cozy shopping experience. This iconic store, renowned for its premium flannel clothing, embodies the essence of New England comfort and style. Their high-quality flannel products, including shirts, pajamas, and accessories, are designed for warmth and durability, making them perfect for the region's cooler climate. Shopping at Vermont Flannel allows you to take home a piece of quintessential New England, ensuring you're well-prepared for the coastal weather. Moreover, the friendly and knowledgeable staff provides excellent service, making your visit not only practical but also enjoyable. Don't miss the opportunity to indulge in classic, timeless fashion that captures the essence of Maine.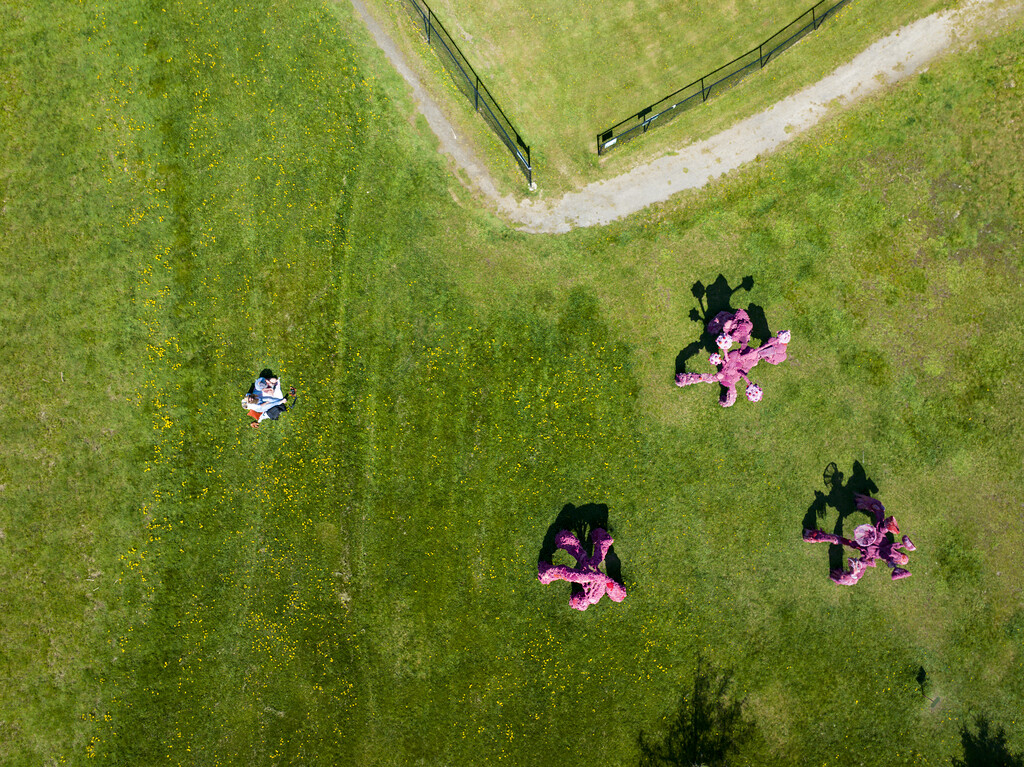 Afternoon: Last but not least don't forget to immerse yourself in the world of art and culture as you explore the vibrant arts district. Visiting renowned art galleries, studios, and shops that showcase Maine's creative spirit encapsulates Portland's Art district. Admire diverse artistic expressions, from contemporary works to traditional crafts, while engaging with local artists and their stories. From there make sure to shop local downtown and get one of a kind items sure to please any recipient, or if you're just looking to obtain a memorable souvenir.
Start planning your trip to Greater Portland, Maine or check out some of our additional services.