Early Morning Morsels + Late Night Bites in Portland
All-Day Dining Delights Across Greater Portland
Embark on a culinary journey with local specialties from sunrise to sunset.
Are you an early bird or a night owl? Whatever you choose when you're in town we have you covered. Whether that means an early morning breakfast beside our hard-working fishers or a midnight snack in the Old Port. Here you will find the best of the best at any hour; pancakes made with real Maine blueberries to seafood delights and international eats around the region. Restore your love for the classics as well as finding new faves along the way.
early morning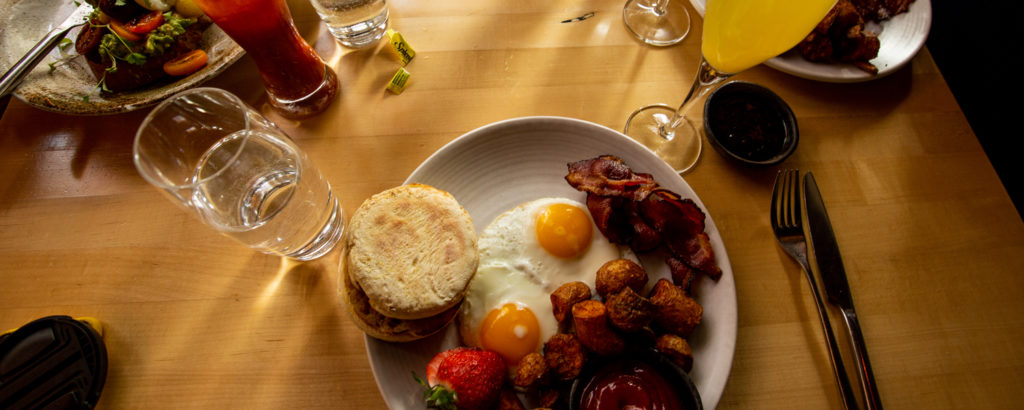 Visitors who forgo the morning meal are depriving themselves of a cherished local delight. The significance of breakfast and brunch in Greater Portland cannot be emphasized enough – local restaurants and cafes approach this endeavor with great dedication. Catering to both early birds and those taking a leisurely start, these establishments push the boundaries of breakfast and brunch. They infuse their unique chef-inspired or globally-inspired twists, or tackle the timeless favorites with unbridled creativity.
Rise and shine at Miss Portland Diner – a famed local hot spot – full of traditional breakfast faves and lunch staples. In the early morning try their signature corned beef hash or Miss P's Breakfast Sandwich, made with a fried egg with cheddar cheese on French toast with syrup and your choice of bacon or sausage.
Perhaps one of the earliest risers in the bunch is Becky's Diner with an open time of 5am. As they say, "Becky's Dinah, Nothin Finah!" Here you'll find friendly service, classics, and house specialties done right.
Congress Squared at the Westin Portland Harborview has your early-morning and late-night snacks covered. It opens at 7am and features Maine staples like lobster benedict and Maine blueberry pancakes (mimosas and bloody marys optional, but encouraged). Or make a late night visit, Congress Squared is open as late as 11pm on Fridays and Saturdays. Find fun shareables for your late-night crew – ale-steamed mussels, big mac fries, or sheet pan nachos.
Late Night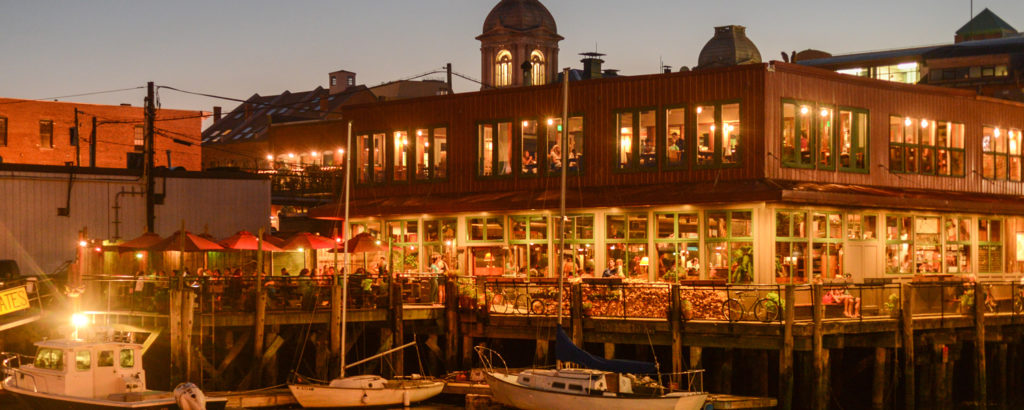 There's no reason to turn in early here – Portland dining comes to life after nine. Some might say area eating is at its best at this late hour for those on the town or just heading out for a bite after a show. While some communities prefer to shut their doors after nine, Portland has a vibrant nightlife, with many venues and eating places just heating up.
Many visitors enjoy late-night live music, open mics, blues, jazz, and acoustic entertainment well into the wee hours, and many downtown venues provide special late-night menus for food and drink. Those ducking into a cozy neighborhood pub, fish house, or oyster room will find plenty serving full menus, late-night specials, or pub menus with their own appeal. Find more late night eats inspiration.
---
more information on places to eat
Check out our full list of dining options.