old orchard beach, maine
OOB: SOUTHERN MAINE'S MOST POPULAR BEACH
The seaside community boasts a diverse and large population of up to 75,000 in the summer as it hosts vacationers from all over the United States but primarily from New England and the mid-Atlantic states, Canada and Europe looking to enjoy our miles-long stretch of fine beach, clean ocean water and all the attractions that both Old Orchard Beach and the surrounding City of Portland have to offer.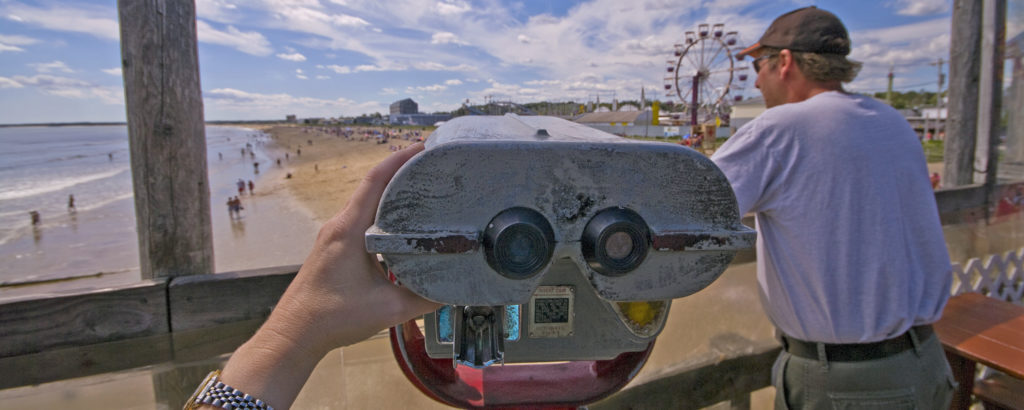 Old Orchard's Pier – which extends nearly 500 feet out over the Atlantic Ocean -is the center of the recreational offerings here. On the pier, visitors can shop, eat, play games of skill, enjoy the nightlife, go dancing, watch fireworks, listen to concerts, fish, or go on a whale watching or bird watching tour. The seven-mile long stretch of wide sandy beach is understandably the major attraction. But when visiting Old Orchard Beach there is a full range of things available to see and do in and around the Old Orchard Beach area.
New England's only beachfront amusement park. Giant arcade, beautiful carousel, Kiddieland. Gondola Ferris Wheel and Galaxi Coaster. Open Memorial Day to Labor Day. Fireworks every Thursday night by the Pier.
Just 5 minutes from Old Orchard Beach in Saco is the family-owned amusement and waterpark, Funtown Splashtown USA. Home to Excalibur—Maine's only wooden roller coaster, ranked one of the top ten in the world. Funtown was voted one of the cleanest parks in America and offers many rides, slides, pools, gift shops, games, arcades, and eating facilities. Open weekends May and Sept. Daily starting early June. Free parking. Unlimited ride pass, slide pass or combination pass, group rates.
other beaches in Greater Portland