welcome home to Maine
HISTORY, CULTURE, AND COMMUNITY THAT MAKES OUR REGION DIVERSE AND UNIQUE
Woven into the fabric of the Greater Portland community is the vibrant and preserved culture of our varied communities. Some have called Maine home for generations and have built businesses, raised families, and revitalized communities here in Greater Portland. While others are our new neighbors recently settled in, looking for a new beginning. We are excited to continue the tradition of celebrating the impact of other communities history and culture which helps shape the region's culture and make vital contributions to its economy.
immigrant communities
Entrepreneurs, workers, students and consumers, all immigrants are vital to Maine's economy. And, the richness and diversity they provide is recognized and valued by those who live and visit our region. Maine has long been a resettlement region for Somali and Sudanese immigrants escaping refugee camps and hardships in their countries. More recently, immigrants from Africa, Asia, Eastern Europe, Latin America, and the Middle East and other regions have come to Greater Portland by choice, citing it a welcoming place to live, work, or visit. Immigrants come to find opportunities, go to school, start a business, or bring their success as professionals in their home country to a new population.
Immigrant communities' voices are heard clearly through the non-profit organizations that support and advocate for them. One of these organizations is the The Greater Portland Immigrant Welcome Center which provides programming, classes, employment and case management, networking opportunities, and other services designed to help New Mainers, of all professions, overcome barriers to enter the US workforce.
Whether you are a member of an immigrant community looking to visit the Greater Portland area or if you are considering relocating, we recommend checking out our international language brochures.
LGBTQ+ COMMUNITIES
Greater Portland loves love. We know for many LGBTQ+ travelers taking a trip is foreign territory. It's hard to know what discrimination or safety issues may arise in a new city. However, you'll find stepping into the Greater Portland region is like stepping into a safe space. In Greater Portland, you'll be amongst LGBTQ+ owned businesses, advocacy organizations with an unwavering voice for equality, and plenty of fun events to keep you busy—but, more importantly you will be amongst friends. We were even voted one of the "Gayest Cities in America" by the Advocate.
"Energetic young businesses like fermented-honey booze-maker Maine Mead Works and the popular men's clothing label Rogues Gallery have established it as a harbor for creativity as well as tolerance."

Mike Albo, The Advocate
Every June, our community comes together for an annual parade and festival to celebrate and honor the accomplishments of the LGBTQ+ movement, raise awareness of the community's ongoing struggles, and foster an environment of inclusivity, accessibility and solidarity. This is the biggest celebration of the 10 Days of Pride, bringing thousands of people to march through the streets of Portland and celebrate in Deering Oaks Park. The Pride Portland! Festival, immediately following the Pride Parade, continues the spirit of the day with entertainment and community. Held in the scenic setting of Deering Oaks Park, the Festival is a unique blend of local talent, food, a beer garden, children's activities, marketplace, and more. People of all ages gather to celebrate and support harmony, persistence, and Pride.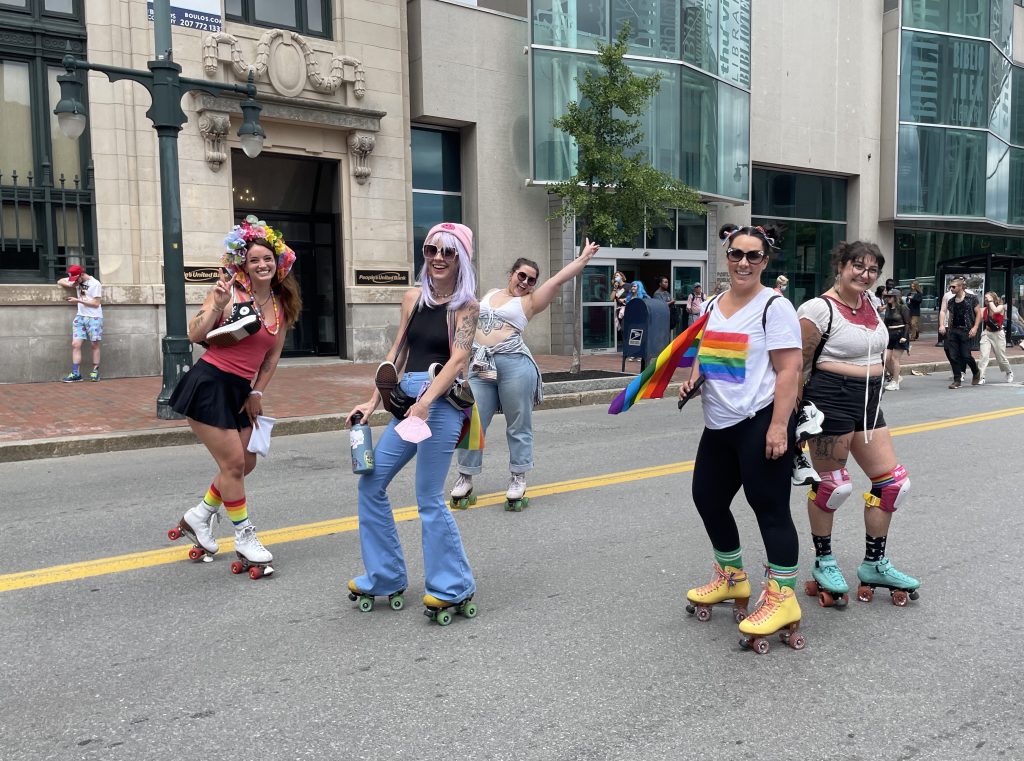 Every year it gets bigger and better than ever, with live stage performances and a full schedule of diverse local talent. This event is family-friendly and inclusive to all. Visit Pride Portland's website for more information on this year's event.
Families + kid friendly
Your kiddos will squeal with glee when they dip their toes into the cool, refreshing waters of Casco Bay. So much aquatic life is unique to Maine and call Casco Bay home—whales, seals, and even Puffins can be found in the wild. So, whether it's on one of our sandy beaches or along the rocky shorelines, you'll be able to point out some friendly faces on the horizon to your little ones. We were even rated one of the top ten "Best Cities for Families" by Parenting Magazine.
"Portland is another small, northeastern city that lures parents with clean air, plenty of outdoor space for kids to play and a laidback lifestyle that encourages healthy, active family living."

Sara Vignerifor | Parenting Magazine
There are so many things to do with kids in Greater Portland. Portland itself is only 6.5 miles from one side to the other, so walk, bike, or stroller around the city. One of the best things about our region is how quickly you can go from being in the middle of the action to the middle of nature. You and your family can be downtown clapping along to a live street performance, or trying some local gelato, and in just a few minutes be exploring the grounds of one of our historic lighthouses.
---
LATEST POSTS