Importance of Black History in Maine
Explore black history across maine
cultural impact and historic sites
Maine has a rich and cultured past. From it's role in the Freedom Trail to the incredible black-owned businesses and artists living in the state—help keep the celebration for Black History month alive all year long in Maine.
The Portland Freedom Trail
You may know of the Maine Freedom Trails. Maine was a pivotal part of how enslaved people and conductors of the Underground Railroad could get from Kentucky to Canada, usually by stopping in Portland and then sometimes going to Brunswick and Topsham, or further up to Augusta, Bangor, and Brewer. But there is also a Portland Freedom Trail. In fact, there is a self-guided walking tour that you can take in Portland of the Trail. The trail was established in 2007 and helps to highlight some of the most influential sites from Portland's Underground Railroad days.
In the early 19th century, Portland had a small but vibrant African-American population. There were many leaders in Portland in the anti-slavery movement and conductors in the Underground Railroad. These visionaries helped formerly enslaved people find freedom by traveling through Maine to get to places like Canada. One of the Portland Freedom Trail sites is the Abyssinian Meeting House.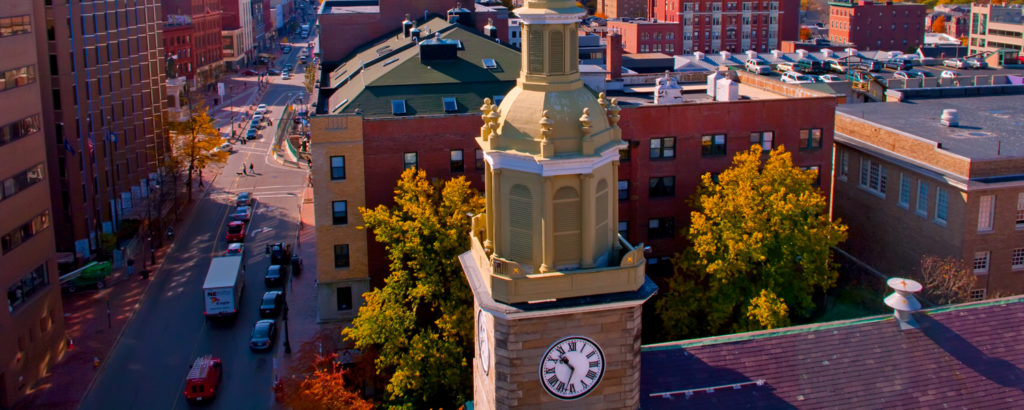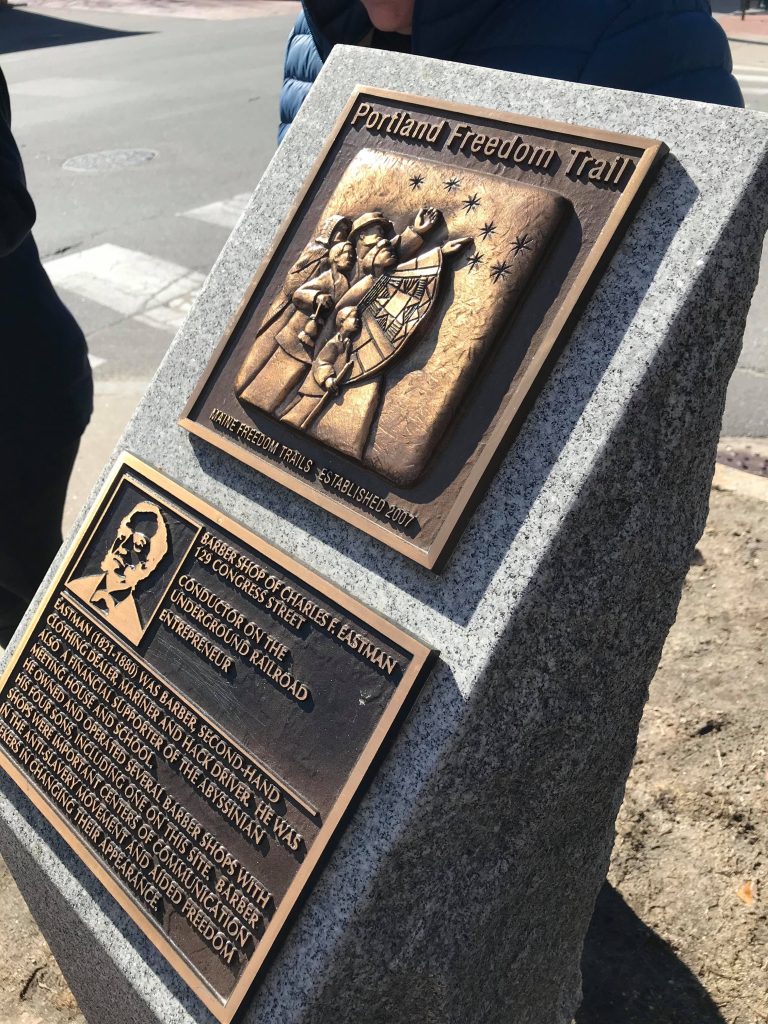 The Meeting House is the third-oldest African-American meeting house of its kind to survive in the country. Another important site on the Portland Freedom Trail is 44 Exchange Street, better known as Lloyd Scott's secondhand clothing store. By day, the store sold clothes, but it was a pivotal stop on the way to freedom by night. Other noteworthy sites include Reuben Ruby's hackstand at Temple and Federal Streets since Ruby could transport slaves.
He was also considered Portland's "foremost African-American anti-slavery activist" and provided the land for the Abyssinian Church to be built. The church was a religious, sociable, educational center for the local African-American community.
Racial Equity & Justice
Racial Equity and Justice Organization (REJ) is a BIPOC led alliance founded in the Wabanaki Territory known as Maine. The organization is operated by Black, Brown, Indigenous, People of Color (BIPOC) and utilizes solution-based approaches to educate the community on racial issues.
They also provide support to BIPOC individuals and their families to help them survive and thrive in the name of equality, justice, and liberation. This includes giving them resources, healing, empowerment, and opportunity, among many others.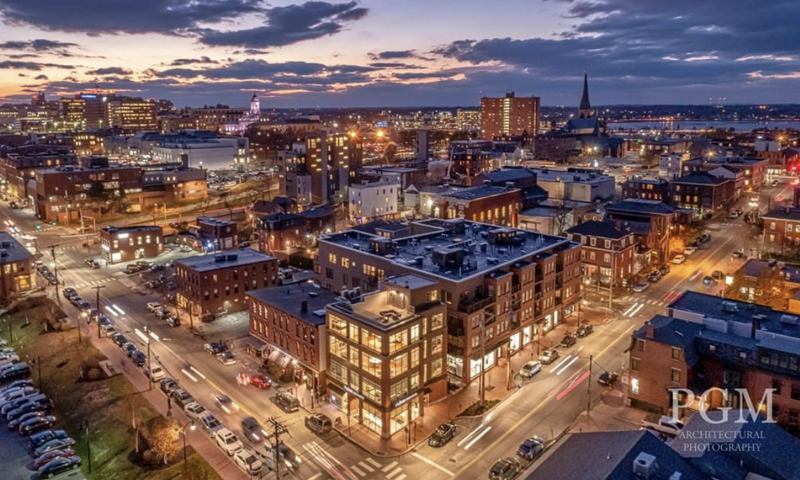 Portland Cityscape at Night, Photo Credit: Peter G. Morneau
Through this mission, Racial Equity & Justice aims to be an advocate and resource for community members experiencing discrimination and racism. Racial Equity & Justice Firm LLP was established by the REJ Organization cofounders. It provides professional services, consulting, advocacy, education, and developing solution-based action plans.
These plans help equip the public and private sectors when tackling racial justice and the issues that may arise.
Black Owned Maine
Black Owned Maine started as a business directory to guide where black-owned businesses in Maine were during the height of police brutality uprisings in 2020. Since then, it has grown into so much more. The most important pillars of Black Owned Maine are:
Antiracist Economics
Choosing to support black-owned businesses in Maine can make a big difference. It is necessary to provide essential, culturally relevant services and goods to a community.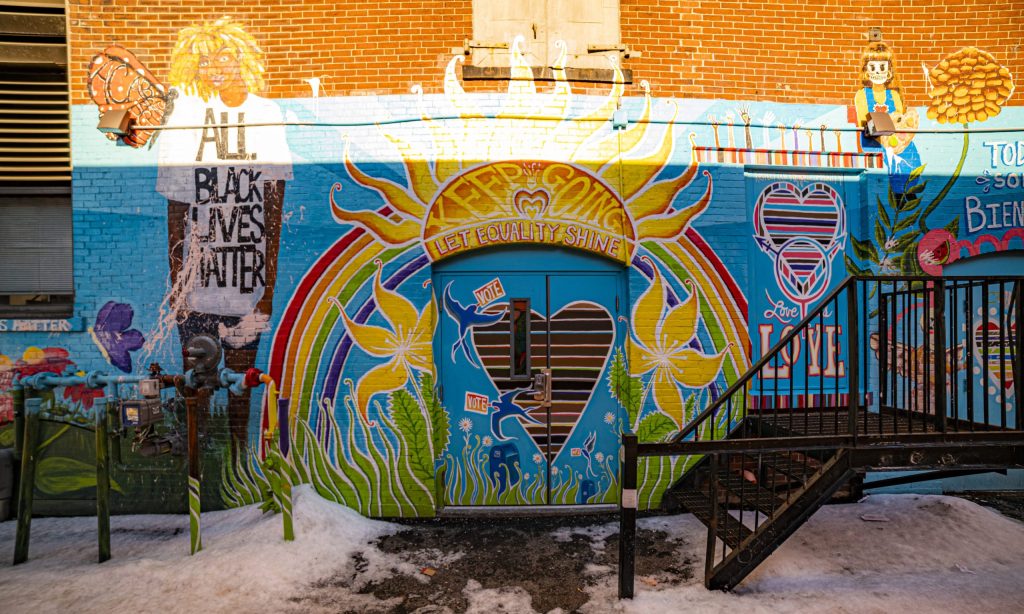 Love + Equality Mural, Photo Credit: Caphore Photography
It also helps members of the community have greater freedom and autonomy over their own lives, helping to chip away at deeply-rooted racism that harms Black communities slowly.
Collective Grassroots Education
Black Owned Maine raises awareness of Black businesses in the state and increases awareness of institutional racism throughout Maine. More importantly, they offer solutions that start to fix the problem instead of making it worse.
Hearth Vision
Black Owned Maine wants to be a warm, nurturing space at the heart of it all. It's a space where friends, family, and partners can meet to recharge and connect. Black Owned Maine exists as a way to be that space for Black people in Maine to nurture them while allowing them to explore and create while supporting Black Mainers in their many avenues, passions, and needs.
Indigo Arts Alliance
Another way to celebrate Black History Month is by supporting the Indigo Arts Alliance. Located in Portland, the Alliance cultivates the artistic development of people of African descent. Daniel and Marcia Minter co-founded the Indigo Arts Alliance. It embodies a Black-led, multiracial approach to the rich, vibrant intersections of community-building, citizenship, and creativity.
Art can be a crucial resource for healthy human communities, making it something that should be celebrated and cultivated. Artists help to strengthen a multiracial democracy. We can build a more humane and inclusive world with their inspiration and unique vision. These two principles are what the Indigo Arts Alliances is built and rooted in.
Their featured Artist in Residence is Rachel Gloria Adams. Adams is a textile designer and painter who lives in Portland. She finds inspiration in Maine, along with the chaos of raising her two daughters.
Learn More
Whether it's Maine's rich past or vibrant culture, there's so many ways people of color in our community have contributed significantly and continue to contribute to what makes this state so great. Experience BIPOC tour opportunities for yourself, provided by NaviTour guides. Portland by the Foot offers a tour that dives into Portland's Black history. Want to walk the Freedom Trail and see all the historic sights yourself? Check out the self-guided walking tour by Maine Historical Society. Find more resources and opportunities in the links above and let us know what you want to learn about next by emailing us at news@visitportland.com
---