sail maine's open waters
TAKE A HANDS-ON SAILING LESSON, PUBLIC SAIL, or WINDJAMMER CRUISE
Stand on nearly any Maine shore on a bright summer day to admire passing sailboats making their way along the bay. Those who linger shouldn't be surprised to catch a race peacefully underway, or an eye-catching schooner sailing from one town to the next. Sailing satisfies those seeking hands-on adventure or a lazy sunset cruise in equal measure, and visitors to Greater Portland are soon moved to get on the water themselves. On this peninsula in Casco Bay, opportunities are many.
Visitors will find scenic coastal cruises that incorporate music, lobster bakes, wine tastings, and yoga just a walk to the waterfront away. Many touring companies provide trips on Maine windjammers, traditional sailing ships that are themselves a work of art, and tall ships with multiple masts that are a Maine attraction both to watch, tour, and set sail on. Private charters too, are available for groups, parties and weddings, making celebrations even more special. For those seeking hands-on adventure on the water, basic sailing skills, refresher courses, or youth sailing lessons are easy to find.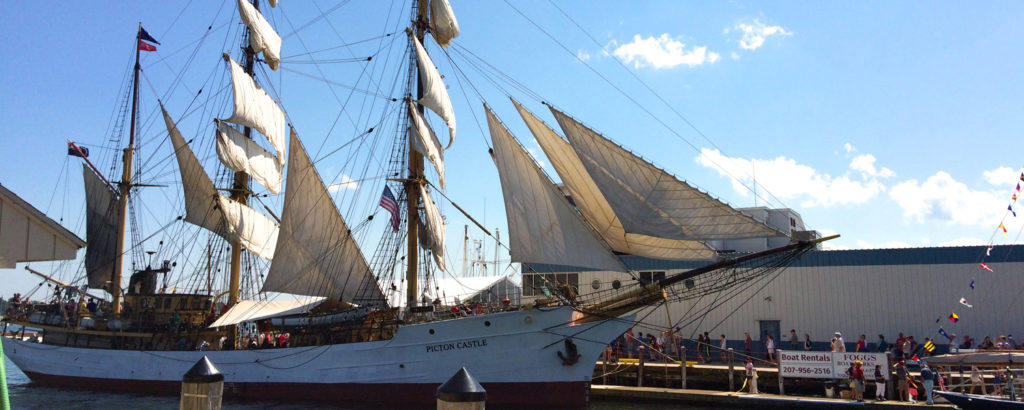 Those timing their visit around sailing events and regattas in Portland and nearby are in for a treat. Tall Ships festivals have a unique atmosphere where people gather to view the ships, smell the linseed oil and pine tar, look up at the tall masts and spars crisscrossing the skies and tread the smooth, scrubbed pine and teak decks. As part of Tall Ships® Portland, the city played host to an international fleet of some of the finest and most unique sailing vessels in the world. Nearby ,in Booth Bay Harbor, the annual Windjammer Days celebration features a gathering of a fleet of 19th-centuty style ships, wooden boats, and a bounty of themed cruises to take part in.
---
More outdoor adventures
Check out our full list of ideas and activities in Greater Portland, Maine below.