outdoor activities in greater portland
Games, Rides, and Activities for your inner thrill seeker
Why stay inside when there are rock walls to be climbed, waves to surfed, and fish to be caught? These types of experiences are the norm in Maine's Adventure Parks where outdoor adventures are a part of the daily agenda. Good thing these parks are found up and down the coast of Maine making for the perfect long-term stay or day trip. Our adventure-ready landscape is ready to lead you on the vacation (or group outing) of a lifetime.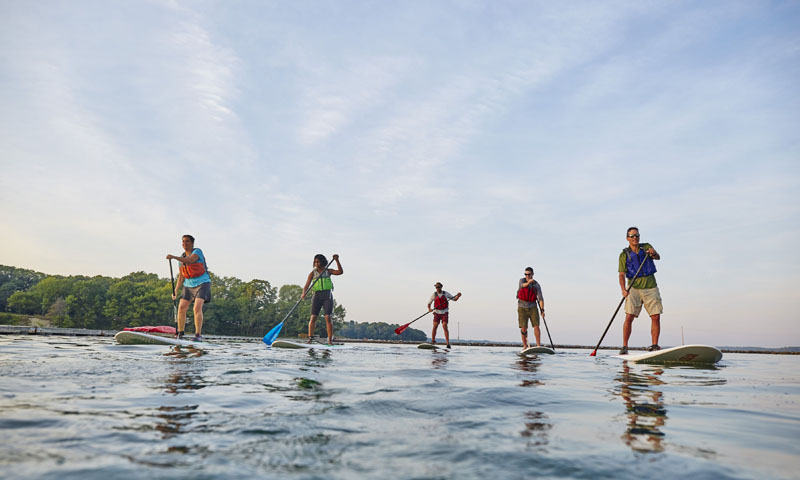 Days are filled with adventures that cover the spectrum, from gentle float trips to riding the rapids; from fishing trips to ATV expeditions. Whitewater rafting is as popular as snowmobiling at these resorts, and rentals of equipment, from snowmobiles to snowshoes, are often available, as are the professional guides to lead the tour. Visitors will also find eco-resorts in the region, where relaxation merges with adventure, and yurts provide lodging in spacious comfort. Guests need only bring a love for the outdoors to embark on an ultimate trip at an Adventure Resort in summer, fall, winter, or spring.
Some Adventure Parks take tubing to new heights, turn ordinary mini-golf into a spooky, ghost-inhabited sanctum, or offer creative challenges and navigational mazes that are fun for groups and competitive adventurers. Others focus on gaming, with extreme sports simulations, laser tag, and some of the best video games in the industry. Kids will love visiting water parks and cooling off in a multitude of crazy ways with plunging buckets, bubblers and squirters. Sky swings and miniature golf round out the family fun and turn a regular day into an unexpected escapade.
---
More adventure Resorts
Check out our full list of ideas and activities in Greater Portland, Maine below.