Kick-Off the Holidays With Freeport's Sparkle Celebration
TOWN-WIDE HOLIDAY KICK-OFF
Freeport, maine
DECEMBER 1-10, 2023
Visitors seeking a town-wide holiday celebration in a Maine seaside village will find it at Freeport's Sparkle Celebration. Each year, Freeport presents one of Maine's most popular holiday celebrations, Sparkle Celebration. The event kicks off in Freeport with a Parade of Lights down Main Street to wake up the famous Talking Christmas Tree. The fun continues all weekend with loads of free events and activities including visits with Santa, horse drawn carriage rides, a Holiday Movie Marathon, a Tuba Christmas Concert and more! Best of all – it's all free!
Visitors will enjoy great events, activities, and shopping throughout the weekend. Coinciding with Sparkle Weekend is L.L.Bean's Northern Lights Celebration, bigger and better than ever. Once the Talking Tree on Main Street is brought to life, children delight in asking the Tree questions and hearing the unique responses. Jump on to a horse drawn carriage for a tour of the village starting in front of the L.L.Bean Flagship Store on Main Street. The whole family will enjoy taking photos in front of whimsical backdrops at L.L.Bean.
In addition to ongoing events, the weekend is studded with highlights. Bring your list and find something for everyone – all while strolling through our charming Maine village, and tucking in to playfully decorated shops teaming with great deals.
---
more information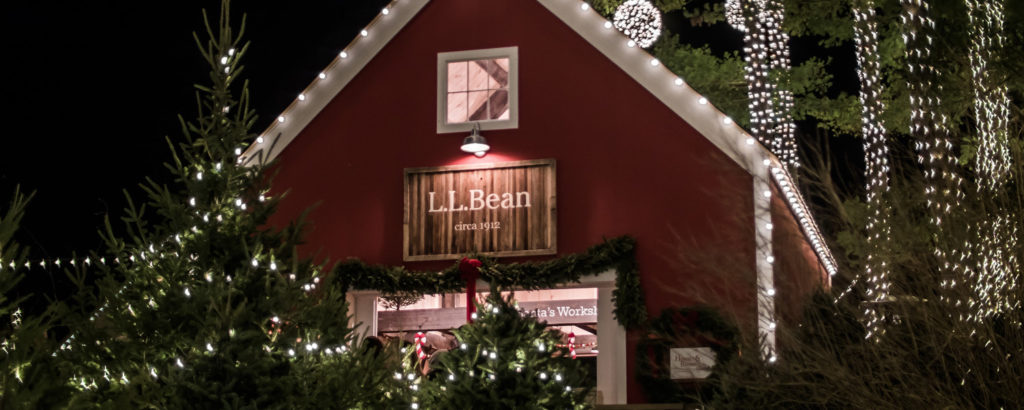 For more upcoming fairs and festivals in Greater Portland visit our Events Calendar