Web Dashboard Walkthrough
Web Dashboard Walkthrough
Add Events, Deals, and Update Listing(s)
Unlock the full potential of partnership with Visit Portland by seamlessly accessing your tools. We'll walk you through the ins and outs of your digital benefits, empowering you to effortlessly create events, showcase deals, and update your listing page. Even conveniently pay invoices through PayPal.
Partner Benefit Overview
Web Dashboard
Login to your Web Dashboard to access your digital benefits. View web stats on listings via Google Analytics at anytime.
Add Events
Promote Deals, Special Rates, Ongoing Promotions, and more
Update Web Listings
Pay via Paypal
Partner Portal
Login to your Partner Portal to access leads, print, and other benefits. Find Partner Portal support
Access Leads
Update Account Contacts
Manage Publication Listins
Pay via Credit Card
Find insights on tapping into Visit Portland partner support and pro-tips.
---
Web Dashboard Login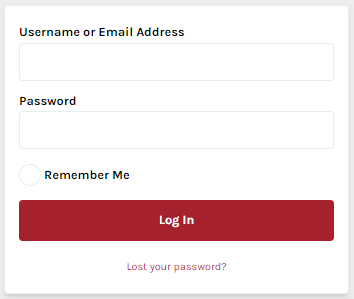 First things first. Login to your Web Dashboard using your Visit Portland Username/Email Address and Password. If you are unsure of what your login is, email partners@visitportland.com. You can sign-in below:
---
Web Listing Profile
View listing(s) across Visit Portland audiences: Visit, Meetings, Weddings, or Travel Trade. Click the drop down under Quick Access (top yellow arrow below) where it says "Select a Listing"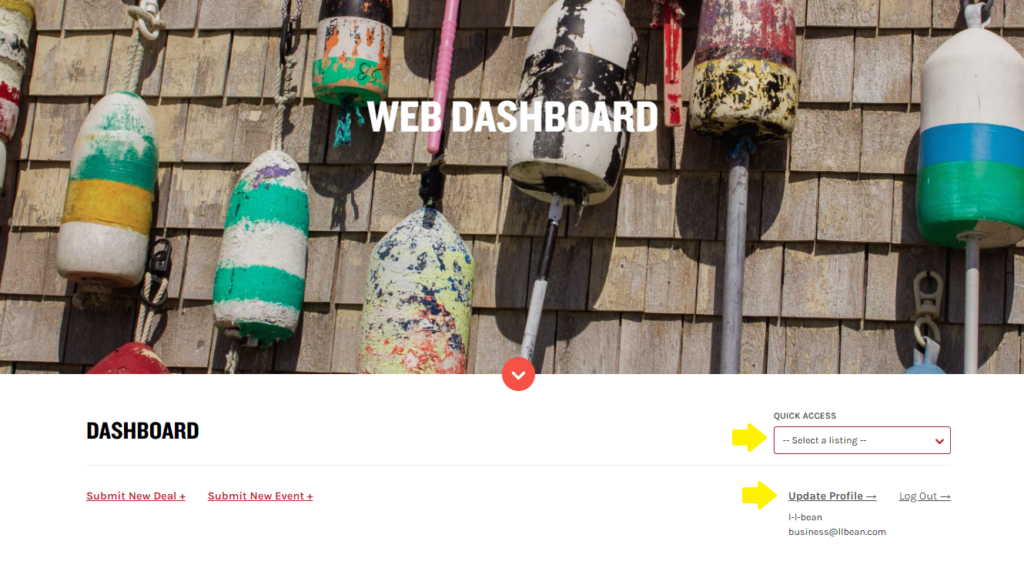 Directly under the Quick Access feature select "Update Profile" (bottom yellow arrow) to go to a form that will allow you to update to your web listing for review. Submit the short form explaining what you would like to update and Visit Portland will inform you when they have been processed.

Make sure to include photographer credits when uploading a new photo into the system. Example: Photo Credit: ABC Photography. If the photo is too large to attach send to partners@visitportland.com
---
Events + Deals
Navigate to the "Submit New Deal" and "Submit New Event" feature by tapping the red links
just under the Dashboard header on the left. Once there follow the instructions on the Deals or Events Forms to completion.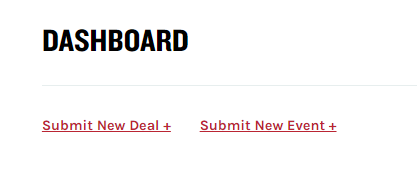 While filling out your event or deal forms, use the key below to help navigate the language you want to add to your post.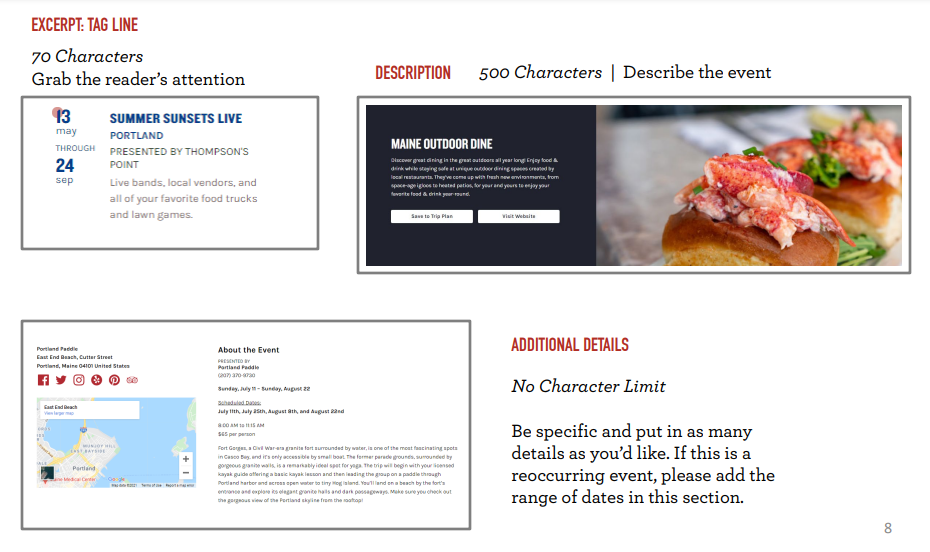 ---
Online Invoices
You can pay an invoice online while logged-into your Web Dashboard. Pay a bill via Paypal by clicking the corresponding link to complete the payment form (below) to seamlessly pay online. If you want to pay via credit card, login to your Partner Portal.

---
Accessing Additional Benefits
There are two ways to access benefits at Visit Portland online. Login to your Web Dashboard for the above digital services and your Partner Portal to access leads, update account contacts, manage publication listings, communicate with other local businesses via the Partner Forum, and conveniently make payments using a credit card.
Want to get a full glance of partnership, check out our benefits brochure. Need more assistance?