Web Advertising
Web Ads
Affordable and Powerful
Increase traffic from our site to yours.
Put the power of visitportland.com to work for your business and bring our traffic directly to your site.
Review our ad options below… contact us for available pages and more details.
*First come – First serve
Enhanced Listings
Float your listing to the top of the page with a captive image increasing user traffic. Add pizzazz to your listing with a slideshow (up to 10 images) and video that bring the customer to you.
Browse our listing pages to see the impact of an enhanced listing and why upgrading is so important to boosting your web referrals.
$265 annually *target markets sold separately
$500 for Visit and Meetings combined
Target Markets
Reach specific markets by adding your listing to the Wedding Venues and Travel Professional sites.
Note: The weddings site is an extension of your Meetings membership but the venues page is an exclusive add-on page for just the price of an enhanced listing. The Travel Professionals site targets motorocoach and international travelers.
$265 annually *sold separately
Tip: send us a special UTM Code to place on your URL Link to track your referrals or we can use our own UTM Code which tracks referrals into a Visit Portland Campaign through your google analytics. We also supply you with clicks and views through our ad platform to measure your ROI.
Web Advertising Options
Gallery Ad
Gallery ads can be placed on main pages like Eat & Drink or listings pages like Maine Lobster.
Includes: Image Slideshow, Tag Line, and URL Link
Visit Portland creates the ad as it appears below.
$265 (per month)
*Contact us about a page you'd like to purchase, First come – First serve


.  .  .  .  .
Branded Ad
Place your own "in-house designed" ad below the navigation area (Left column below the Search Button) on any of our listings pages.
Specs: 169 pixels wide x 404 pixels tall
$265 (3 months)
*Contact us about a page you'd like to purchase, First come – First serve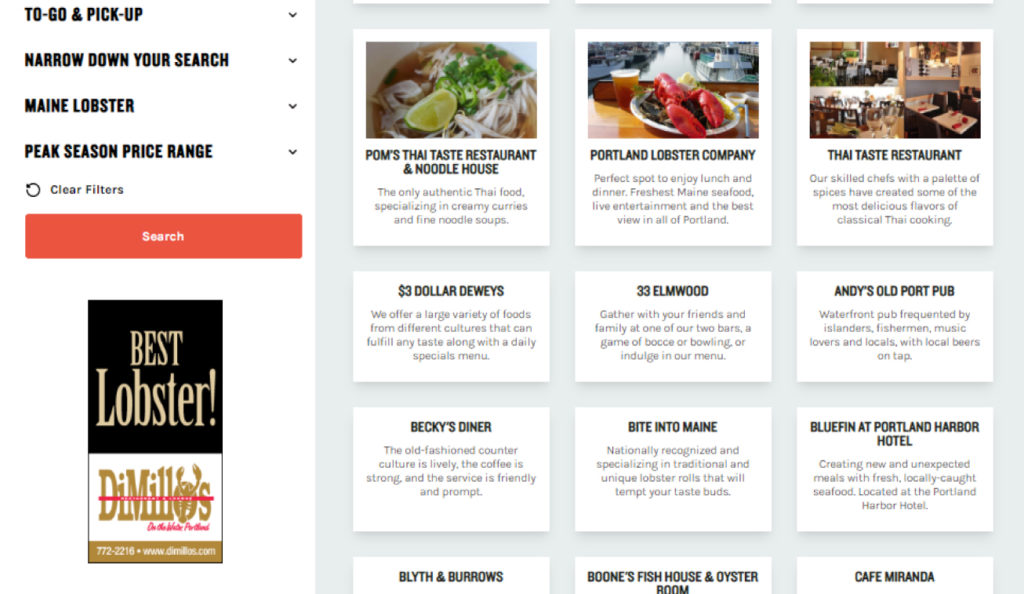 .  .  .  .  .
Banner Ad
Place an ad on either one of these two high traffic pages. Events Calendar  |  Packages & Deals
First come – First serve
Supply us with an Image, Tag Line and URL Link. We take care of the rest.
$265 (per month)