Have your business FEATURED in
Sample Itineraries
at the NYC International Travel Show
OCTOBER 25-27
BUYERS: MEETING PLANNERS | TRAVEL MEDIA | INTL TOUR OPERATORS | CONSUMERRS
*Exclusive marketing for Visit Portland partners*
---
We'll Bring You With Us!
Visit Portland will promote your business amidst 50+ one-on-one appointments at the New York International Travel Show taking place October 26-28. Appointments consist of vetted travel media, meeting planners, receptive tour operators and consumers. This is a one-stop shop, show!
Inclusion in one or more of our sample itineraries is first come first serve and will provide your business with dynamic exposure via print and digital media at the show and continued promotion (post show) via www.VisitPortland.com's Travel Trade and/or Meeting sites (roughly 60K events* so far in 2022) for 12 months.
Additional Benefits Include:
Sponsored ad commitment by Visit Portland to drive more traffic to itineraries
Quarterly Impression analytics
Continued promotion amidst all target buyers interested in the Greater Portland region/State of Maine
12 months of continued exposure on www.VisitPortland.com (over 2 million events* so far in 2022)
*Website events include views, but also allows for tracking link clicks and other engagement
---
CHOOSE YOUR SAMPLE ITINERARY TOPIC(S):
MEET IN MAINE
EAT & DRINK YOUR WAY THROUGH PORTLAND
48 HOURS IN PORTLAND, MAINE
ULTIMATE COASTAL ROAD TRIP
CHOOSE YOUR FEATURE SIZE(S):
*EXAMPLE ONLY ITINERARY SHOWN BELOW*
Linked Listing + large photo (1500px by 600px) and personal paragraph (55 to 100 words)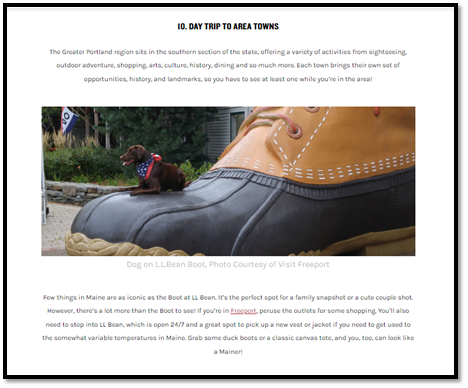 ---
Linked Listing + small paragraph (800px by 480px) and copy (20-50 words)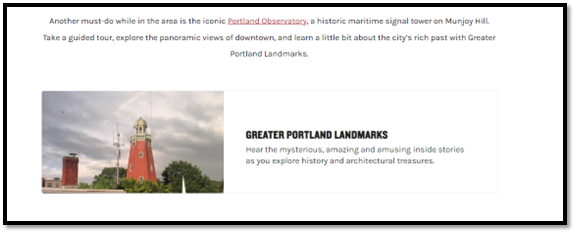 $350
---
Text Only – Linked Listing: including your business in the appropriate sample itinerary's copy.

$150
---
ALL Participants Receive:
A Business listing + photo included on the printed sell-sheet distributed to all buyers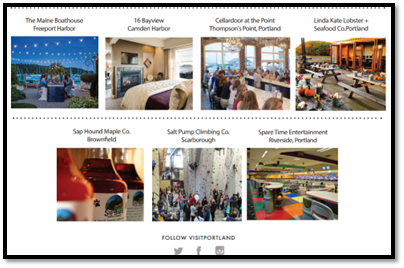 Example of sell sheet formatting*
---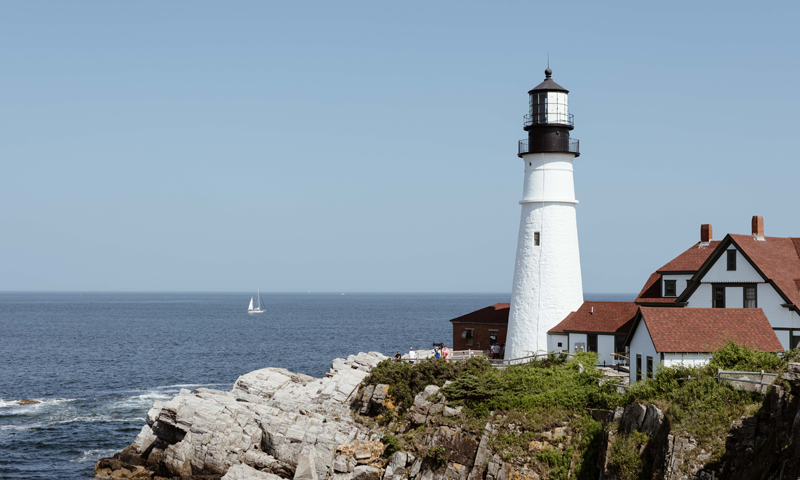 Contact Us
Reach out to our team to secure your spot in this campaign. If you have questions or would like to participate, touch base with our partnership team at partners@visitportland.com,